Description
Details
Doogee Titans2 DG700 Smartphone use Quad-core 1.3GHz CPU, 1G RAM + 8G ROM with 4.5 inch 960*540 screen, Android 5.0 OS, promises quite a fast operation speed is quite amazing and impressive. 5.0MP front camera for convenient self-capturing, 8.0MP back camera for you to record every single moment clearly. all available to make it the most valuable choice to buy Doogee DG700.
Doogee DG700 Smartphone Basic Information
Model: Doogee DG700
Band: 2G: GSM 850/900/1800/1900MHz
         3G: WCDMA 850/1900/2100MHz
Sim Card: Dual SIM Card Dual Standby(Ordinary SIM, One Micro SIM)
Service Provide: Unlocked
Color: Black
OS: Android 5.0
CPU: Quad-core 1.3GHz
ROM: 8GB
RAM: 1GB
Display Size: 4.5 Inch
Type: IPS OGS Full lamination technology
Resolution: 960*540 pixels
Card Extend: Support TF card up to 64GB extended
Camera: Dual Cameras, 5.0MP front camera, 8.0MP back OV camera

Doogee DG700 Mobile Phone Basic Function
Certification: CE/Rohs
Earphone Port: 3.5mm
GPS: Yes, built in, but also support A-GPS
WIFI: Yes, 802.11 b/g/n
Bluetooth: Bluetooth 4.0
Sensor: Light sensor , G-sensor , P-sensor, Gesture sensing
Speaker: 3D box
Charger: Input :100-240V; Output: 5V-2000mA (Fast charging)
Language: English, Spanish, Portuguese (Brazil), Portuguese (Portugal), Italian, German, Dutch, French, Polish, Romanian, Turkish, Russian, Arabic, Indonesian, Malay, Thai, Vietnamese, Hindi, Hebrew, Simplified Chinese, Traditional Chinese.(It has updated 48 languages)
Other Feature: Wake Gesture, 3 finger fast screenshot, Smart button, Guest account, HotKnot file transfer technology, Ultra effective power saving mode, Charging other devices, Torch light
Design: Water-dust proof  IP67. The rigidity of metal, the softness of skin, made in heaven. Smart button (Control in one button).  Powerful LED Flash.  Charge indicator. Waterproof speaker

Doogee DG700 Smartphone Accessories:
1 x 4000mAh Battery
1 x USB Cable
1 x earphone
1 x user manual
1 x Charger
Military grade exterior, Custom made customization layer
Style and durability in one fine smartphone, rugged front and crocodile style leather back. Customization-layer(launcher).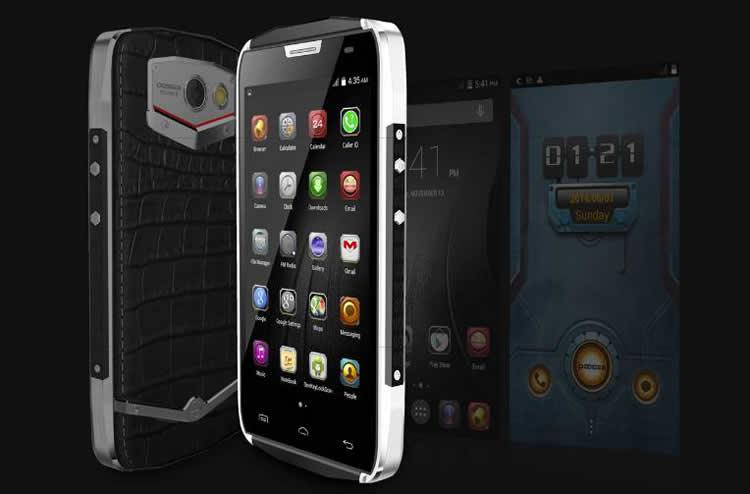 Water-dust proof IP67, Extremely ruggedized
The Titans2 DG700 holds IP67 certification, waterproof, anti-dust, anti-vibration, anti-shock, anti-scratch, low temperature resistant. Good for the desert or a stroll through the jungle.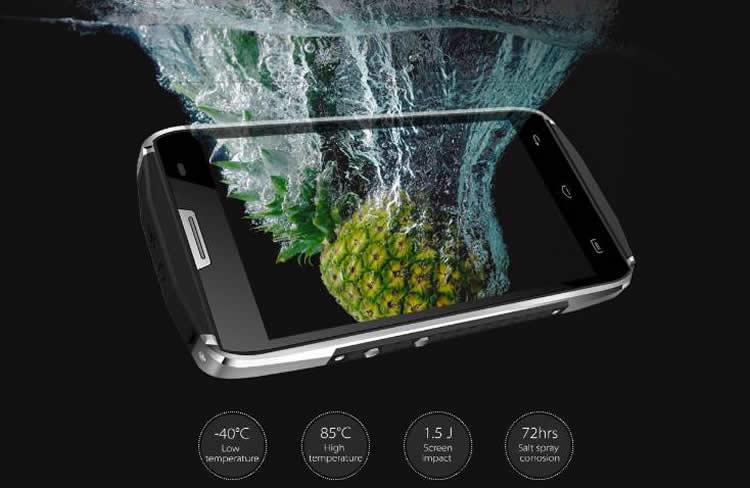 OV® 8.0MP camera, iPhone sensor
Selfies, landscapes, trips, your best memories... become much easier to capture with the Titans2 DG700 advanced camera, Take pictures in mere seconds, just take your phone point and press, the best software and hardware are there to assist you in doing so.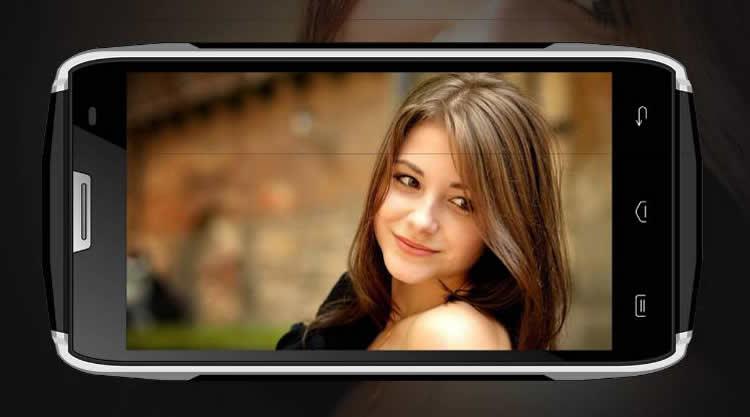 3 finger fast screenshot, Make fast screenshot at any moment
The Titans2 DG700 is equipped with fast screenshot. Put 3 fingers on the screen and draw them down and you will have a screenshot in just one gesture.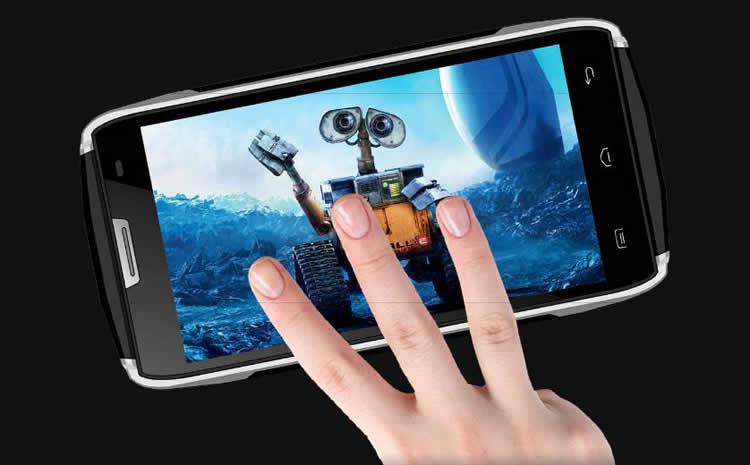 Reviews
Excellent

Review by

Sordino

Does everything to a high standard - works really well with virgin UK (Posted on 8/26/2015)

Star

Review by

Asko

After few installed apps, I am running out of memory because of Lollipop flaws. After updates apps are moving back from SD card to the internal memory. Factory update menu is in Chinese. With JellyBean I would give ***** as I would not care about how to downgrade the system and would be totally happy with the product. (Posted on 8/24/2015)

Grat phone quality/price

Review by

Joss

I am very happy! The battery life and resistence is great. There are some things to improve like the storage, the weight or the RAM (only 1GB) but for this price is a great decission.

Greatings! (Posted on 8/18/2015)

Excellent

Review by

Sordino

Great all rounder - for the price it is amazing! Used in five countries - no problems. one suggestion do not have too many apps you don't use. Large apps easily moved to SD card. Works really well - very impressed DooGee.... (Posted on 7/31/2015)

small storage

Review by

Jaro

Storage is very very small, moving apps to Phone storage not working at all, after installing couple of apps iam out of memory. Good battery. Please merge internal and phone storage. This time 3 stars only :( . (Posted on 7/21/2015)

amazed !

Review by

daddy

ive owned lots of Top line phones all the usual ,picked up a DG700 for its toughness only but its amazed me just how good this is ,much prefered to jcb ,etc..i will not part with mine AAA+++ (Posted on 7/14/2015)

Good

Review by

mallasorte

i have the DG 700 for about 4 month now so i made myself a pretty good ideea. its fast its gorgeus looking.
problems : - verry small internal storage 1,4 gb from a total of 8 gb phone storage (have to clean and delete cache before any update app)
- my screen has a few scratches although is gorilla glass .....???
- camera ...im at my 3rd Doogee ( dg2014, dg 900, dg 700) and to tell u the truth the camera is not a thing dogge can brag with :P (Posted on 7/3/2015)

Great work but update R19 not running

Review by

aSc1972

Great work but update R19 not running pls. check immedently there is some drive or Folder or mount mismatch. Do your best!!! (Posted on 6/30/2015)

ME GUSTA MI DOOGEE DG 700 T2.

Review by

ATANOR

LA BATERÍA NO DURA TANTO, CON UNA APLICACIÓN SENCILLA DESCUBRÍ QUE SÓLO TIENE 1.000 MILIAMPERIOS Y NO 4.000
EL LED CASI NO ILUMINA (COMO LINTERNA) PARA EL TAMAÑO QUE TIENE.
LOS LEDS DE DIFERENTES COLORES AL VERDE, AL AZUL Y AL ROJO, NO FUNCIONAN.
SE ME DESCONFIGURA MUY RÁPIDO EN LOS SONIDOS Y LOS TONOS DE LOS MENSAJES SE ESCUCHAN MUY BAJOS.

ANTE LO ANTERIOR QUÉ PUEDO HACER? EXISTE UN MANUAL EN ESPAÑOL?

mUCHAS GRACIAS. (Posted on 6/27/2015)

good phone but too heavy

Review by

shagaf patel

I liked this phone very much. Due to its heavy weight, I have no chance to lose this phone at any point. Not impressed with the camera clarity. That's not at all a problem in my case.i don't know how to use smart wake up function...still good phone i like it because of Android 5.0 lollipop......it works very fast..better than Samsung galaxy s4..thank you....... (Posted on 6/20/2015)

Good but with upgrade probleem

Review by

GSlooters

I have the DG700 now 2 month and I like the phone. With wireless-update Doogee brings bug-fixes etx. Until the version R18 every worked fine, but with R19 the DG700 runs in error. I had to remove the battery to fix the problem. R19 does not work well.
(Posted on 6/8/2015)

Rough n Tough !

Review by

Tracey

I liked this phone very much. Due to its heavy weight, I have no chance to lose this phone at any point. Not impressed with the camera clarity. That's not at all a problem in my case. I am not finding the default doogee lock screen shown on the ads. If someone knows how to get them. (Posted on 6/6/2015)

Good phone

Review by

G Slooters (NL)

I have the DG700 now 4 weeks. It is a very good phone which runs on Android 5.0.
The Wireless-update R19 dos not work good. I have to open the phone tot reset it.
Ik think it is a bug. Until now Wireless-Update worked well
(Posted on 5/23/2015)

Doogee DG700

Review by

memmie

I love my phone some of the future does no work like 3 finger do not work
And I can not open my picture any picture or mail if i have to down load it will not let me down loading i have to open they will not open I have to have people to send it to some one else phone.
Can any one help me. (Posted on 4/29/2015)

Excelent so far....

Review by

Chris

even though I must admit that it's camera did not impress me, It has a huge battery and very good (for its specs) overal perfomance...

Its ROM is not bloated, and I'm already enjoying OTA updates for Android 5.0! (Posted on 4/8/2015)

Everything is fine

Review by

Jesusbg

Simply the best phone I have ever seen and used! (Posted on 3/14/2015)

Good phone

Review by

Sandra

Can we change the custom android? its horrible?
So far great phone. (Posted on 2/26/2015)

Camera Flash

Review by

Augusto

The LED that has this phone works like flash of the camera ?
That intensity has this led?
Thank you (Posted on 1/25/2015)

great phone

Review by

matzyy

great phone (Posted on 1/23/2015)

Its, perfect.

Review by

Nahuel

Its, perfect. maybe you guys need to change the custom android, its horrible.
but the phone, the phone man, its increible.
grat work! and a really nice price!!! GJ! (Posted on 1/16/2015)

Great Phone

Review by

Fimi

hello from germany, i have bought this phone. its have more weight than other phone but its great. you really know when you forgot your phone :)
it has powerful battery, and very fast processor, if you click an app, its open instantly. you can switch between the apps very fast. i tested the phone on waterproof...yes it is.. :) the programm button is a special thing i never seen on another phone. great idea!
the camera is very good too. how can dogee provide such a phone for this low price?

i just missed a better manual and some software to connect with computer
btw....its a great phone and i recommen this to buy...


(Posted on 1/12/2015)

Good phone - missing one or two things

Review by

Chris

This is a great phone with many good features. I should also point out I changed from a Samsung SIII to the DG700.
On the plus side, it does have the smart button which can be changed to suit your applications with both a long press and a short double option. Its great that its drop proof and waterproof though I have yet to have a reason to test either of these.
A couple of negatives in my opinion it is missing some of the features you would expect on any modern smart phone such as customizable ring tones for individual callers or a factory user friendly calendar and music player.

That being said, maybe these are software things that can be fixed in an update? (Hint hint). It doesn't really come with a comprehensive set of user instructions so I am very much learning by doing so maybe I have yet to find these options...

I like the phone and I am more than happy with my purchase, I am sure others will be too. (Posted on 1/8/2015)
Write Your Own Review
Tags
Questions on Doogee DG700 Android 5.0 Quad Core 1GB 8GB Smartphone 4.5 inch 8MP camera 4000mAh battery Black
Sort by

From Pavel at

11/21/2014 8:10 AM

Hello, I'm really interested in this device. But i can't even find release date. Could you inform me about this, and it will be very nice to see samples of cameras photos. Thank you very much.
Doogee Mobile
Thank you for your mail.
Doogee DG700 phone has not officially released,
We will email you at the first time when the DG700 smartphone be available.

From karlito at

11/27/2014 7:05 AM

From Cristian P at

11/27/2014 10:32 AM

From Gustavo Leòn at

11/27/2014 12:27 PM

Hello, I'm really interested in this device. But i can't even find release date. Could you inform me about this, and it will be very nice to see samples of cameras photos. Thank you very much.
Doogee Mobile
Thank you for your mail.
Doogee DG700 phone has not officially released,
We will email you at the first time when the DG700 smartphone be available.

From JJG at

11/29/2014 8:10 PM

From bond at

12/1/2014 12:18 AM

From JANKO at

12/1/2014 2:54 AM

From Greco at

12/2/2014 10:55 AM

From Sigmund at

12/3/2014 12:50 PM

From L.bala at

12/3/2014 8:05 PM

From David Jera at

12/4/2014 7:38 PM

From Vlasta at

12/6/2014 6:04 AM

From Petr at

12/8/2014 5:12 AM

From Brahm at

12/8/2014 9:17 AM

will you ship to India?
what about custom duties?

Doogee Mobile
Thank you for your mail.
We support shipping to India,
We are not sure about your local customs, but we can help you reduce and avoid import taxes by declaring prices low, declaring the contents as "electronic accessories" or other items and shipping in simple packaging.

From insain at

12/9/2014 1:43 PM

From cipt at

12/11/2014 10:22 AM

From rodrigo at

12/11/2014 2:39 PM

From Jean-François at

12/11/2014 2:53 PM

From pascal at

12/12/2014 2:18 AM

Bonjour,
Je trouve ce téléphone très intéressent et je voudrais savoir si il est possible de l'avoir en France, s'il est compatible sur nos réseaux, et quand sera t-il disponible. dans l'attente de votre réponse.
Cordialement.
Doogee Mobile
Thank you for your mail.
Doogee DG700 can work in France, but DG700 hasn't officially released.

From Cees Kramer at

12/12/2014 11:59 AM

From Cees Kramer at

12/12/2014 12:02 PM

From Yaron at

12/13/2014 10:51 AM

From panos at

12/14/2014 12:40 AM

From Jan at

12/15/2014 1:41 AM

Dear Doogee. The DG700 tell it support 2G GSM I would like to know if it also support 3G GSM the one we use in Europe.

If not than this phone will have very slow mobile internet

Thanks Jan
Doogee Mobile
Thank you for your mail.
Doogee DG700 support 3G WCDMA 850/1900/2100.

From Ladin at

12/15/2014 2:36 AM

From mike at

12/16/2014 5:47 AM

From Bernie at

12/17/2014 3:28 PM

From muflih at

12/17/2014 3:36 PM

From Ivh at

12/17/2014 8:01 PM

From Vit at

12/18/2014 11:11 AM

I've already bought the phone.
Say what functions it supports (in the description is not).
OTG?
MHL?
Miracast?
GPS Glonass?
From what height can withstand a fall?

Doogee Mobile
Thank you for your mail.
Doogee DG700 support GPS, does not support OTG, MHL, Miracast.

From Vit2 at

12/19/2014 6:49 AM

Hi. Can you tell me when it will be Released in Portugal. I, very interested in buying one.
Thanks
Doogee Mobile
Thank you for your mail.
I regret that we have no dealer or re-seller in Portugal,
you can buy here: http://www.pompmall.com/doogee-dg700.html

From ritchie carmo at

12/19/2014 3:27 PM

From Daddycool at

12/21/2014 1:29 AM

From bond at

12/23/2014 12:46 AM

From Bernardo at

12/29/2014 7:13 AM

From laxanh at

12/29/2014 4:53 PM

hello admin

I'm vietnamese, i want to buy this phone, but i have any question.
- Have do this phone used in Viet Nam? VietNam use GSM 850 / 900 / 1800 / 1900 - all versions
- If i buy, how to do buy this, ex complete price, how much; how to deposit, deliver or shipping...?

pls answer my question to my gmail. thanks
Doogee Mobile
Thank you for your mail.
Doogee DG700 can work in VietNam,
you can buy here: http://www.pompmall.com/doogee-dg700.html
The shipping cost to VietNam is $11.0 via Singapore post with the tracking number 10-25 working days around to arrive at you.

From Juri at

1/4/2015 11:14 AM

From Paulo at

1/5/2015 8:09 PM

Dear sirs,
Im in Portugal. Can I buy this phone?? How can I do it??

Many Thanks
Paulo
Doogee Mobile
Thank you for your mail.
Doogee DG700 phone is in stock and ready to send,
you can buy here: http://www.pompmall.com/doogee-dg700.html

From Ron heath at

1/6/2015 9:46 AM

From Anees at

1/8/2015 3:42 AM

From Byuer at

1/9/2015 5:56 AM

Product information says, that phone has updated 48 languages, but on the list is only 22. What are the rest 26 languages? Does this phone speaks Finnish (or Suomi)? And could you list rest of those supported languages too, so peoples don't have to ask them one by one?
Doogee Mobile
Thank you for your mail.
Doogee DG700 support Suomi.

From panos at

1/11/2015 6:06 AM

From zralok at

1/11/2015 1:09 PM

From Fimi at

1/12/2015 5:39 PM

hello, im from germany and i have ordered this phone. its really waterproff (i close my eyes and tesded it) great battery runtime.
you cant buy better phone for this money. dogee really goood work ★ ★ ★ ★ ★

what about this hotknot?
does it work with any phone? how this thing work?
is there any software to connect with pc? for backups, administrate contacts, sms etc..i mean i dont like sync my personal data to google.

and another question:
firmware updates planed?
why so short manual? you got to learn the phone learning by doing..
Doogee Mobile
Thank you for your mail.
HotKnot technical device contact, can simple transmit documents data, and mobile payment application,(Two phone needs to support HotKnot).

From Sebastian at

1/13/2015 1:36 AM

Hello, I am the owner of this phone.
Where can I find the original ROM to your phone?
I can not do root your phone, tried by all means :(
You can handle something on this subject?
Additionally lost IMEI numbers with flash and without root, I can not do anything.
Doogee Mobile
Thank you for your mail.
Doogee has not released DG700 ROM Firmware,
you can try this: http://bicgatephone.blogspot.com/2014/08/how-to-rewrite-or-repair-imei-on.html

From panos at

1/14/2015 3:16 AM

From dimis at

1/15/2015 7:21 AM

From Pierre DESGAGNES at

1/17/2015 7:52 AM

I got my new DG700 yesterday but I am not sure how I can open the phone to put the sim card in. I try to turn off the screw on back but it seem locked...

Is there some manual or on line video for customer help?
Doogee Mobile
Thank you for your mail.
You can put the battery cover open.

From Adel at

1/18/2015 3:42 AM

Haw can be it possible to get this product from Bangladesh. I don't have any card to pay so what will be the payment tram?
Doogee Mobile
Thank you for your mail.
I regret that we have no dealer or re-seller in Bangladesh,
you can buy it in POMP Mall,
support Paypal and Wire Transfer. You can use your Credit Card through Paypal / credit card /wire transfer.

From Viktor at

1/19/2015 8:59 PM
Ask Your Own Question
You may also be interested in the following product(s)