Description
Details
DOOGEE Y100 Smartphone use MTK6592 Octa Core CPU, 1G RAM + 8G ROM with 5.0 inch 1280*720 qHD screen, Android 4.4 OS, promises quite a fast operation speed is quite amazing and impressive. 8.0MP front camera for convenient self-capturing, 13.0MP back camera for you to record every single moment clearly; 3G, GPS, WiFi, Bluetooth, etc, all available to make it the most valuable choice to buy DOOGEE Y100.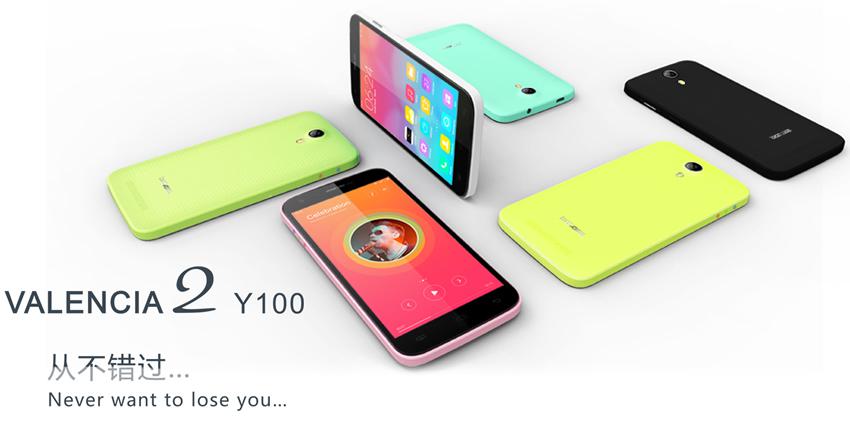 Classic back design, feels really nice in hand
The back cover's wheat texture design is not only comfortable and anti-slide but also is anti-fingerprint.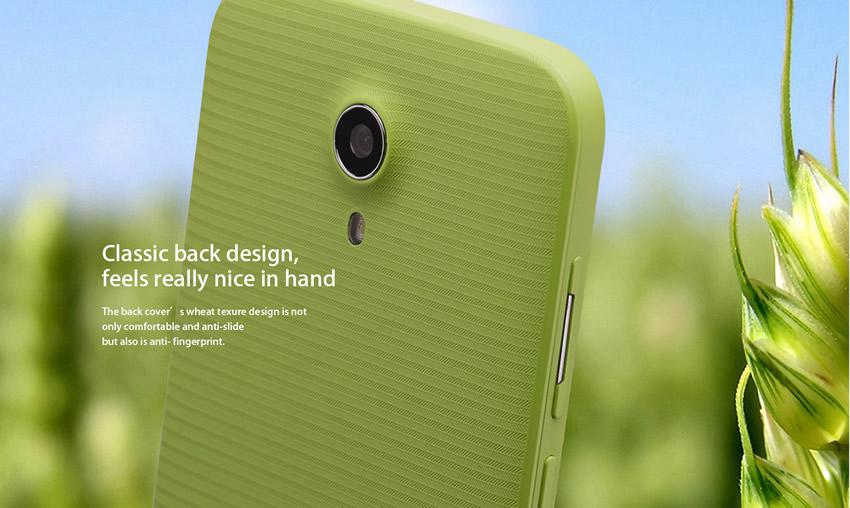 Back touch panel, control at your fingers
Use the back touch panel located in the back of the phone for internet browsing, boks reading, photos taking etc, just as you would do with the front screen, but with the easiness of holding the phone with a single hand. If that was not enough, a simple double tap on the back of the phone or long press will open any application you choose.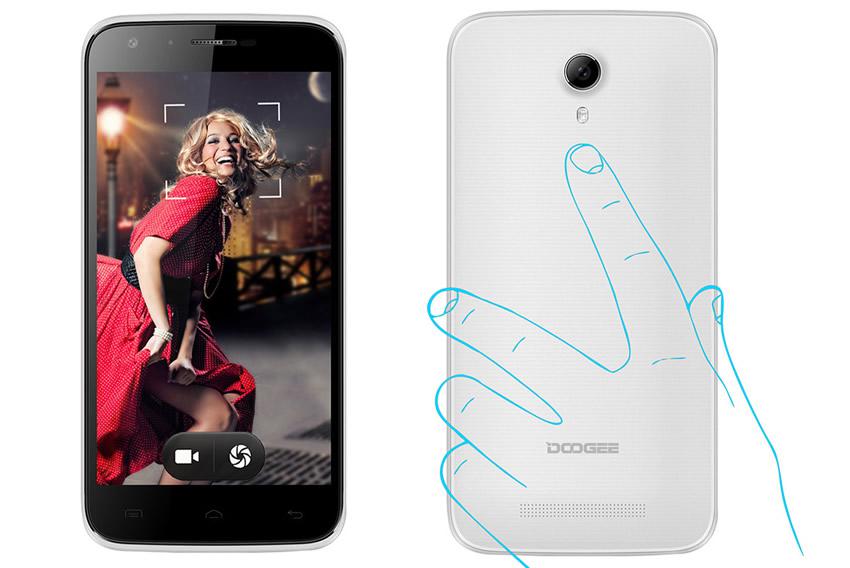 Sony 13MP main camera sensor, capture the beauty of the night
Photo taking has always been an important element of the Valencia family, that is why we have installed an 13MP Sony sensor in the Valencia 2's camera.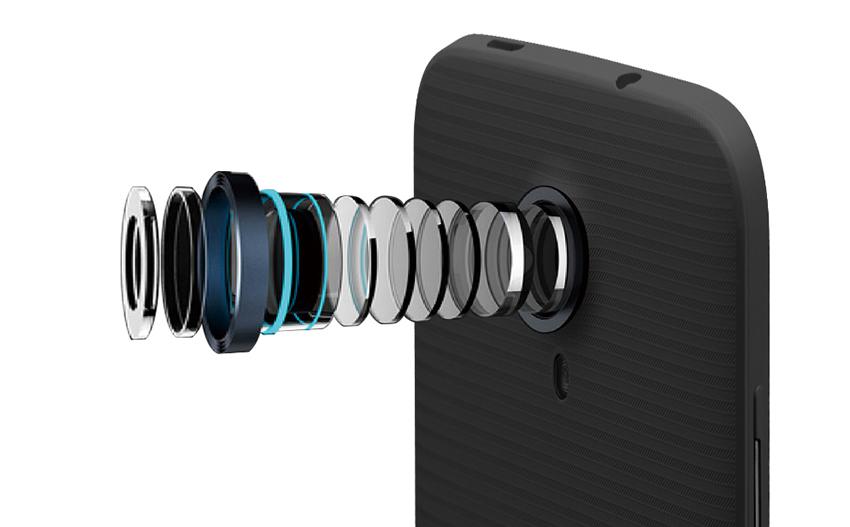 Extraordinary night photo taking. Capture every detail in the darkest moments.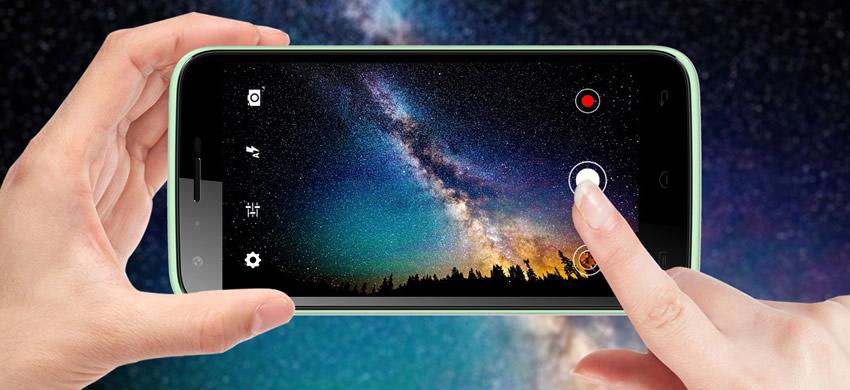 Octa-core chip, enjoy blazing fast speed
With an octa-core chip, the phone is able to run at an amazingly fast speed and easily handle graphically-intensive games, which ensure you to enjoy smooth gaming experience without any lags.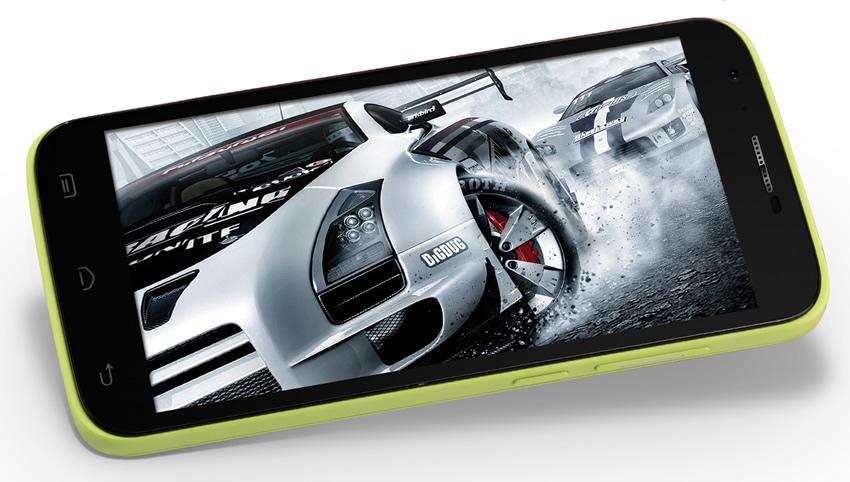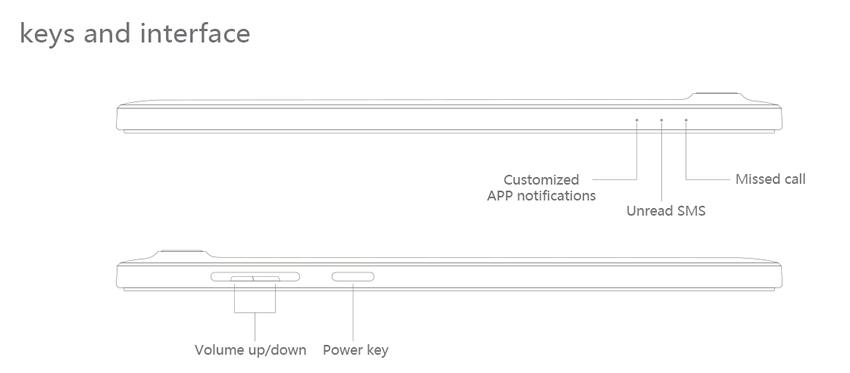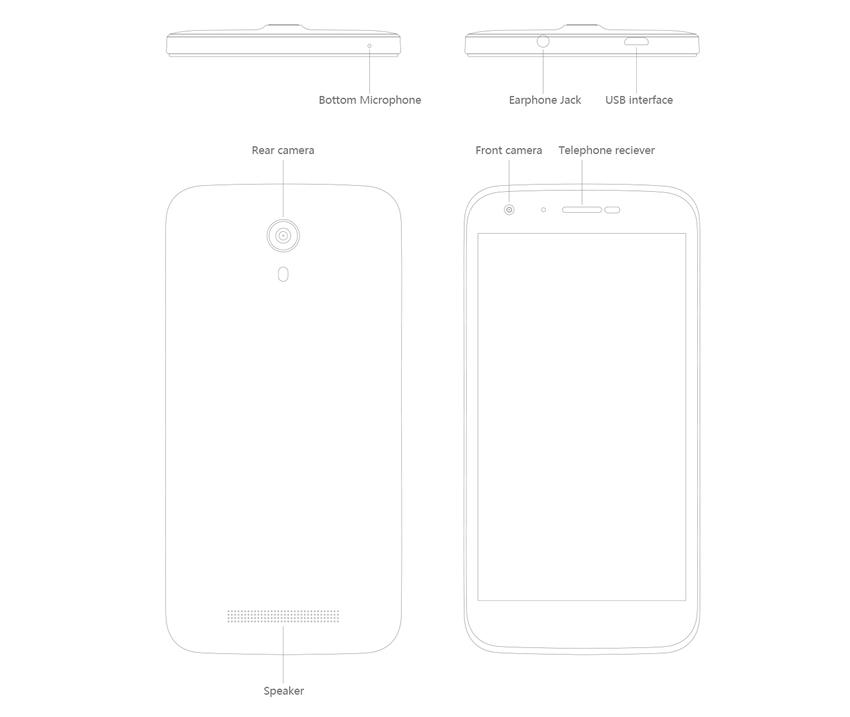 DOOGEE VALENCIA 2 Y100 Smartphone Reviews:
- 5.0 inch, 1280*720 pixels display
- MTK6592 Octa Core
- 13MP back camera + 8MP front camera
- 1GB RAM + 8GB ROM
- Android 4.4
DOOGEE VALENCIA 2 Y100 Specs

Model

Doogee Y100

Band

2G: GSM 850/900/1800/1900MHz
3G: WCDMA 850/1900/2100MHz

Sim Card

Dual SIM Card Dual Standby (One Micro SIM Card)

Service Provide

Unlocked

Style

Bar

Color

Black

Shell Material

Plastic

OS

Android 4.4

CPU

MTK6592 1.7GHz Octa Core

ROM

8GB

RAM

1GB

Display Size

5.0Inch

Type

OGS 5 Points capacitance screen

Resolution

1280 x 720 pixels

Screen Color

160K

Card Extend

Support TF card up to 64GB extended

Camera

Dual Cameras, front camera 8.0MP, back camera 13.0MP With Flash Light

 

DOOGEE VALENCIA 2 Y100 Basic Function

Ringtones Type

Polyphonic/MP3

Audio File Format

MP3/WAV/AMR/AWB

Video File Format

3GP/MPEG4

Image File Format

JPEG/BMP/GIF/PNG/GIF

E-book Format

TXT/CHM/DOC/HTML

FM Radio

Yes, earphone needed

Earphone Port

3.5mm

Data transfer

USB/Bluetooth

Mobile internet

WAP/WIFI

Phonebook

500

Message

SMS/MMS

Input

Handwrite/Keypad

TV

No

GPS

Yes,built in.also support A-GPS

JAVA

No

WIFI

Yes, 802.11 b/g/n

Bluetooth

Bluetooth 4.0

Gravity Sensor

Yes

Multi-Touch

Yes

Standby Time

About 2~3 days

Size

155.1×77.6×6.95mm

Weight

122g

Language

English, Spanish, Portuguese (Brazil), Portuguese (Portugal), Italian, German, Dutch, French, Polish, Romanian, Turkish, Russian, Arabic, Indonesian, Malay, Thai, Vietnamese, Hindi, Hebrew, Simplified Chinese, Traditional Chinese. (It has updated 48 languages)

Other Feature

WIFI, Play Store, FM, Bluetooth, Ebook, Email, Messaging, wallpapers, calendar, calculator, clock, camera, etc

 

DOOGEE VALENCIA 2 Y100 Mobile Phone Accessories:

1 x Doogee Y100

1 x 2200mAh Battery

1 x USB Cable

1 x Charger

1 x Screen Protector

1 x User Manual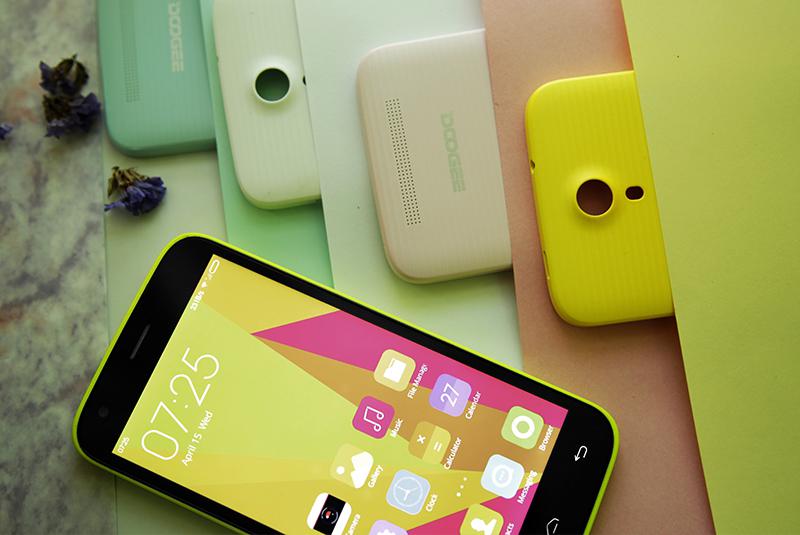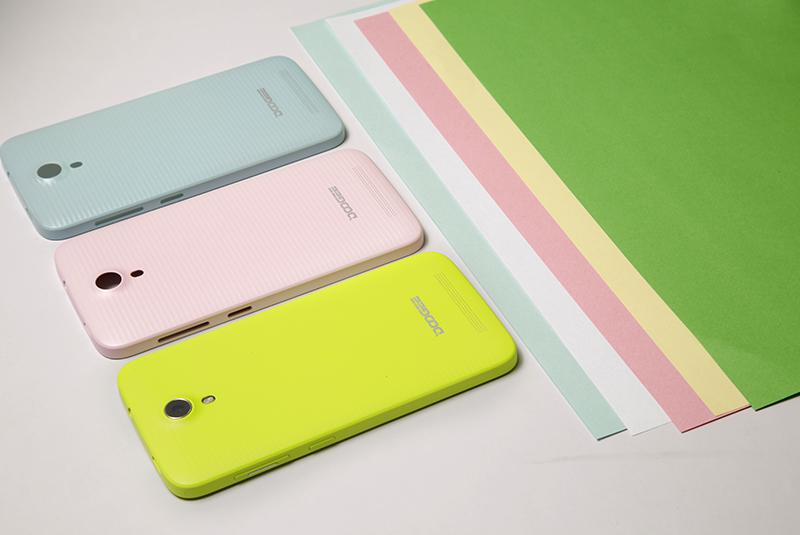 Reviews
SAR ?

Review by

Sophie

Hi,

I would like to know the SAR of this smartphone. Fore head and body.

Thanks. (Posted on 12/12/2015)

micro sd card

Review by

johny

hi
doogeee Valencia 2 support micro sd card of 64gb class 10 (Posted on 8/14/2015)

About fast charging

Review by

pkordon

There is no any fast charging as it is described. It is charging about 25% in 30 min. (Posted on 7/20/2015)

USB connection

Review by

yakumo

Hi, everyone!
The phone is pretty good for its money, you would not regret buying it.

I have two questions.
1. Do I need any additional software in order to connect the phone to PC - drivers, etc. Until now all my Doogee phones offered me to activate USB connection to PC when I simply plug the USB cable, this one does not and I still cannon figure out how to connect it to PC - therefore 4 stars rating from me.
2. Could I buy additional battery and where?

Thanks! (Posted on 7/8/2015)
Write Your Own Review
Tags
Questions on DOOGEE Y100 MTK6592 Octa Core 1GB 8GB Android 4.4 Smartphone 5.0 Inch HD IPS Screen 13MP camera Black
Sort by

From ouatt ouatt at

4/25/2015 1:42 PM

From Kayla at

4/26/2015 9:05 AM

From Mabe at

4/28/2015 11:48 AM

Does the Y100 fix the battery issues of DG800, and are there any improvements to the jack audio output quality?
Doogee Mobile
Thank you for your mail.
We will have fully test before we send, all our Android Device come with 12 months warranty, If any problem, please contact our after-sale customers service at any time .

From Florin at

4/28/2015 9:42 PM

From Tomas at

4/29/2015 11:04 PM

From Velegi Géza at

4/30/2015 1:50 AM

From DIMITRIS BATSILAS at

5/2/2015 1:27 AM

Dear doogee i bought a doogee valencia 2 y 100 but in my hurry i didnt see the phone has not got the greek language.
what can i do for this? is it easy the sealler to install greek language or i must exchange the product .
Can you give me an advice for this?
thank you very much i am waiting for your answer.
Doogee Mobile
Thank you for your mail.
Please contact the seller to replace the phone.

From Bettina at

5/4/2015 1:21 AM

From D. Filipović at

5/4/2015 10:35 AM

From Buddah at

5/4/2015 7:44 PM

From deno at

5/10/2015 2:57 AM

From D. Filipović at

5/11/2015 1:08 AM

From Ramiro at

5/11/2015 7:10 AM

From Richatd at

5/11/2015 7:33 AM

Hello, Does the Doogee Valancia2 y100 have wireless update to update the firmware. What is the useable memory and what is the storage partition sizes or is all the useable memory avalible for app storage. Thanks
Doogee Mobile
Thank you for your mail.
DOOGEE Y100 has 4GB of available storage space.

From herroP at

5/12/2015 9:39 AM

From Karel at

5/13/2015 3:27 PM

From hoodlum at

5/14/2015 7:11 AM

From Jonas at

5/15/2015 6:53 AM

At http://www.doogee.cc/products_detail/&productId=113.html I click on "parameters" and see "3rd generation Corning Gorilla Glass" at the Display / materiel section.

And yet in the answer on this page to the rqestion of Ramiro at 5/11/2015 7:10 AM, you say "DOOGEE Y100 does not have Gorilla glass."

Do I look at the wrong product at doogee.cc?
Is the DooGee.cc wrong?
Please clearify about the glass that is used for this phone.
Doogee Mobile
Thank you for your mail.
Sorry, DOOGEE Y100 support Gorilla glass.

From Jonas at

5/15/2015 6:54 AM

From Cesar at

5/16/2015 1:33 PM

Hello, I just got this phone but flash light is barely shining and GPS takes a lot to get position and disconects very often. Is it normal or my phone is broken?

Doogee Mobile
Thank you for your mail.
To fix satellites I followed this guide:
0) Enter Engineering menu
1) Select Engineering mode for MTK
2) Select YGPS -> Information -> and tap on 'AGPS restart'
3) Exit YGPS and select LocationBasedService.
4) Select AGPS -> Enable A-GPS
5) Select GPS
6) Select FULL
7) Tap on Ref Position and see if some location datas are present: enter your current position (Lat,Long) if it's empty. Select ok.
8) Let the GPS start by tapping on GPS (OFF). It will become 'ON' and will procede with fixing the position
9) Tap on GPS (ON), it will become OFF
10) Select HOT instead of FULL
11) Enter Ref Position and tap 'Apply Last Position'.
12) Reboot
13) Install GPS Status & Toolbox and see if it fixes satellites easily

From D. Filipović at

5/18/2015 1:46 AM

From Cesar at

5/18/2015 5:19 PM

Thanks a lot for your help, now GPS works much better than before. I hope, if it is possible, you can tell me how to make flashlight brighter because it is useless as it is now.
I hope that in future updates you can add more font styles to be used. Now I use my phone in spanish language, although text can be read, there are some mistakes like spaces where it should not to be and that is annoying in some occasions, so I think it can be solved with another font style, or if there are another solution, I hope you can implement it.
Doogee Mobile
Thank you for your mail.
We will develop the firmware to solve this problem.

From Brett at

5/20/2015 2:15 PM

From andrei at

5/22/2015 12:54 PM

Good afternoon.
I want to buy this phone, found in the description of one of the sites that the screen is Sharp, contrast 1000: 1, brightness of 450, ntsc 85%, 95% saturation - tell me, can you confirm that this model of phone is sharp, and with the characteristics?

Tell me, how many back covers supplied with the phone, and is it possible to buy them separately?

Do you plan to upgrade to android 5.0 for this phone, this model?

Thank you, waiting for your reply.
Doogee Mobile
Thank you for your mail.
We will put the phone back covers editor to the website,
We will update the Android 5.0 firmware on the website in time when it is released.

From andrei at

5/23/2015 3:00 AM

Can you write detailed specifications of the display? in the shop where I want to buy this phone is that it is written on this phone is the display sharp, can you confirm whether this is really the case?
Doogee Mobile
Thank you for your mail.
Size: 5.0 inch multi-touch screen
Material: 3rd generation Corning Gorilla Glass
Technic: OGS lamination

From Ahmed at

5/23/2015 9:18 PM

From Rick at

5/24/2015 6:44 PM

From Da at

5/25/2015 9:16 AM

From Cris at

5/28/2015 10:03 AM

From A at

5/30/2015 4:39 PM

From A at

5/30/2015 9:03 PM

Do you have doogee phone centre in Malaysia?
Doogee Mobile
Thank you for your mail.
I regret that we have no dealer or re-seller in Malaysia,
All are under one year warranty. (Excluding the accessories). If any problem, pls contact our after-sale customers service at any time,
you can buy here: http://www.pompmall.com/doogee-mobile-phone.html

From aglae at

5/31/2015 5:48 AM

Hi,
is there a différence between "Doogee Y100" and "Doogee Valencia 2 Y100" ?
Some shop make a différence....

And is it well : "3G: WCDMA 850/900/1900/2100MHz" ...900 ?

Thank you
Doogee Mobile
Thank you for your mail.
Doogee Y100 and Doogee Valencia 2 Y100 is the same phone,
Doogee Y100 support 3G: WCDMA 850/1900/2100MHz, does not support 900MHz.

From A at

6/1/2015 8:12 AM

From meni at

6/2/2015 4:31 AM

when will Y100 will get lollipop?
Doogee Mobile
Thank you for your mail.
When we get the Doogee Y100 Android 5.0 lollipop ROM, we will update here: http://www.doogeemobile.com/download

From papiyo at

6/2/2015 8:38 AM

From zet at

6/2/2015 6:33 PM

From Martin Luna at

6/2/2015 8:09 PM

From Martin Luna at

6/4/2015 1:32 PM

From Frank Roloff at

6/7/2015 9:08 AM

From Luis Felipe Correa Alcalde at

6/8/2015 4:33 PM

From D. Filipović at

6/9/2015 6:14 AM

Today I got doogee valencia2 Y100, started it and everything was ok.
I looked to see if there update via WiFi and told me that he has loaded the update, after restarting said he installed the update, and finally out error. far more will not start. Pray for help.
Doogee Mobile
Thank you for your mail.
Please download the Stock ROM at the official website for updates.

From File015 at

6/9/2015 10:59 AM

From akis at

6/9/2015 1:53 PM

From Marcis at

6/9/2015 10:08 PM

From Osvaldo at

6/12/2015 9:01 AM

I buy this for my sister and she told me about three problems
1.- the internet conection via mobile data is slow
2.- the youtube app can not be download
3.- the camara doesn not zoom

Thanks
Doogee Mobile
Thank you for your mail.
Mobile Internet slow problems, we recommend that you try the following methods of operation:
1. Check the phone network signal is strong, if the signal is weak will affect the mobile Internet speed.
2. Clear mobile Internet cache.
3. Replace the other SIM card (check whether the SIM card problems).
4. Settings - Application Manager - All - Internet - Clear Data.
5. Settings - About Device - Software Update to the latest version to try.
Please download youtube app on your computer, then copy it to the phone installation.

From D. Filipović at

6/13/2015 7:03 AM

From D. Filipović at

6/13/2015 8:34 AM

From philippe at

6/13/2015 2:24 PM

Hi,
I have received my Valencia y100.
Looks good but the phone cannot find any WiFi network when there are many available (they are not 5g).
3g network is working but I need WiFi to work.

Thank you for your help
Doogee Mobile
Thank you for your mail.
Phone settings - > wireless and network ->WLAN settings, click on the phone under the "menu" button, in the pop-up menu select "advanced", and then in the WLAN dormancy strategy "drop-down menu select" never ", so as to realize the WLAN are always open.

From edouardreg at

6/14/2015 5:42 AM

Hello,

How can I remove shortcuts on the desktop screens ?
Just can desinstall applications, but no possibility to remove shortcuts ?

Very big problem has I test a lot of applications on the google play.

Regards
Doogee Mobile
Thank you for your mail.
Press the software icon for 3 seconds, a dustbin will appear at the top of the screen, then move the icon to the dustbin,it is easy to figure out.

From Raul Vicent at

6/14/2015 8:07 AM
Ask Your Own Question
You may also be interested in the following product(s)