Description
Details
Doogee F1 Turbo Mini Smartphone use MT6732 Quad-Core 1.5GHz CPU, 1G RAM + 8G ROM with 4.5 inch 960*540 qHD screen, Android 4.4 OS, promises quite a fast operation speed is quite amazing and impressive. 5.0MP front camera for convenient self-capturing, 8.0MP back camera for you to record every single moment clearly; 4G, GPS, WiFi, Bluetooth, etc, all available to make it the most valuable choice to buy Doogee F1 Turbo Mini.
DOOGEE TURBO Mini F1
It's not only about spped. 4G, with speed up to 150Mbps. 4.5 inch, metal liquid design, 5.5mm thick frames.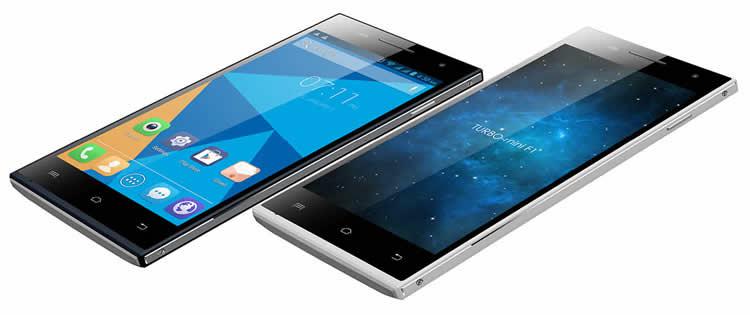 4G, speed up to 150Mbps
With FDD-LTE 4G support and speed up to 150Mbps, meaning that you can watch HD movies on the move, play online games, download big resolution picutres , etc... With dual sim, and dual standby, no need to own to phones to have two numbers.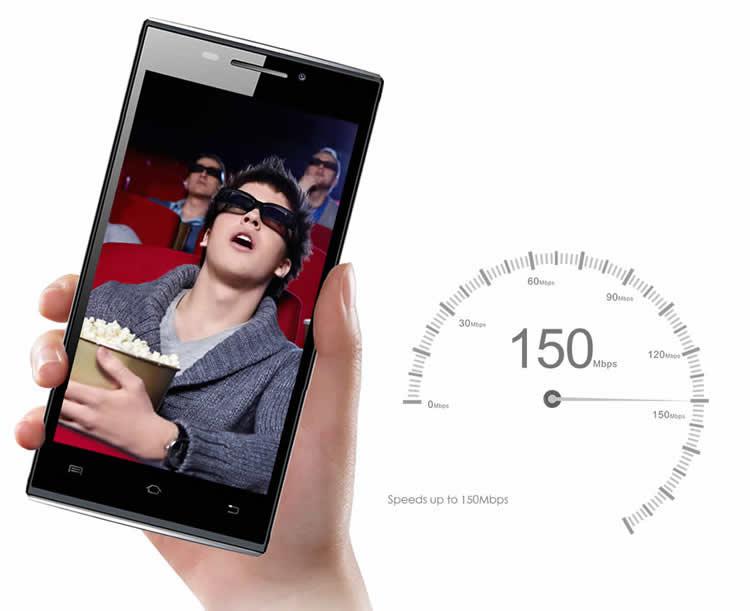 Light, just 112g
The first thing you will notice when you have one F1 in your hand, it how light it is. Just 112 grams with a 4.5 inch screen and a curved design back, makin git perfect for one hand use. Its back comes with a high precision machinery craved speaker hole, you will fall in love with it.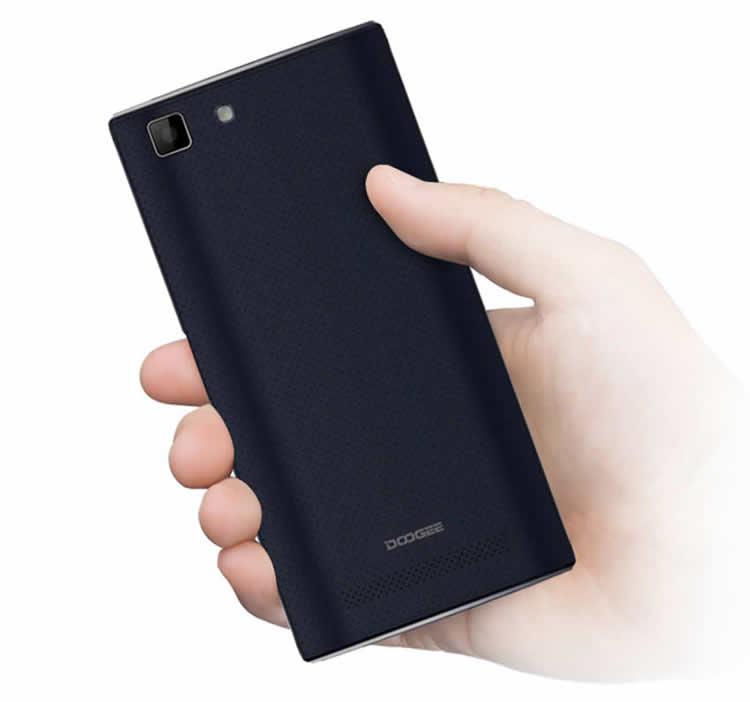 Smart Gestures
The Doogee F1 Tubro Mini is equipped with fast access to all your applications; it allows for not only easier ways to use your applications, but also makes your buttons to last longer. For example you can skip to next song without unlocking the screen, just draw a horizontal line on your screen.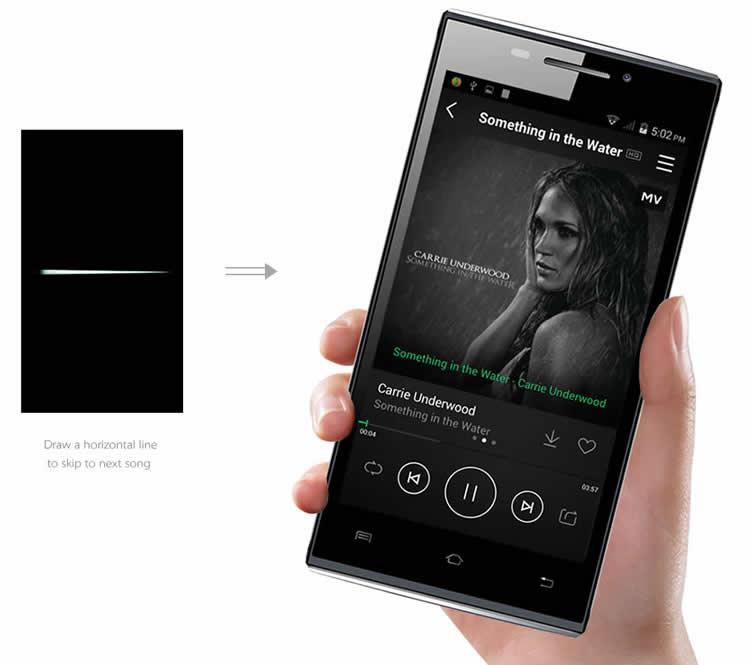 3 finger fast screenshot
The DOOGEE F1 TUBRO Mini is equipped with fast screenshot. Put 3 fingers on the screen and draw them down and you will have a screenshot in just one gesture.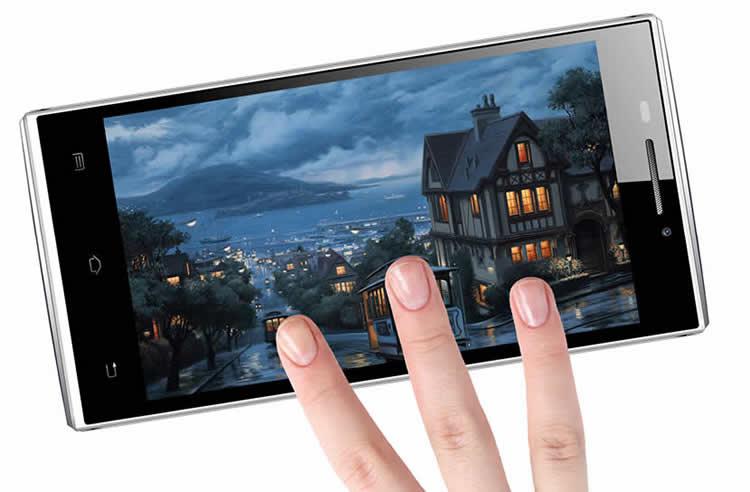 Doogee F1 Turbo Mini Smartphone Highlights:
- Android 4.4
- 4.5 inch, 960*540 pixels display
- MT6732 Quad-Core 1.5GHz
- 8MP back camera + 5MP front camera
- 1GB RAM + 8GB ROM

Doogee F1 Turbo Mini Smartphone Basic Information
Model: Doogee F1 Turbo Mini
Band: GSM: 850/900/1800/1900MHz
         WCDMA: 850/900/1900/2100MHz
         FDD-LTE: B1:2100, B3:1800, B7:2600, B20:800MHz
Service Provide: Unlocked
SIM card: Support Dual sim dual standby, Ordinary SIM, Micro SIM
Color: Black
OS: Android 4.4
CPU: MT6732 Quad-Core 1.5GHz
ROM: 8GB
RAM: 1GB
Display Size: 4.5 inch
Resolution: 960*540 pixels
Camera: Dual Cameras, 5.0MP front camera, 8.0MP back camera

Doogee F1 Turbo Mini Mobile Phone Basic Function
Ringtones Type: Polyphonic/MP3
Audio File Format: MP3/WAV/AMR/AWB
Video File Format: 3GP/MPEG4
Image File Format: JPEG/BMP/GIF/PNG/GIF
E-book Format: TXT/CHM/DOC/HTML
FM Radio: Yes, earphone needed
Earphone Port: 3.5mm
Data transfer: USB/Bluetooth
Mobile internet: WAP/WiFi
Message: SMS/MMS
Input: Handwrite/Keypad
GPS: Yes
WIFI: Yes, 802.11 b/g/n
Bluetooth: Yes
Gravity Sensor: Yes
Multi-Touch: Yes, 5 point touch
Language: English, Spanish, Portuguese (Brazil), Portuguese (Portugal), Italian, German, Dutch, French, Polish, Romanian, Turkish, Russian, Arabic, Indonesian, Malay, Thai, Vietnamese, Hindi, Hebrew, Simplified Chinese, Traditional Chinese.
Other Feature: 4G, WIFI, GPS, FM, Bluetooth, Ebook, Email, Messaging, wallpapers, calendar, calculator, clock,camera, etc
Net weight(Including battery): 112g

Doogee F1 Turbo Mini Mobile Phone Accessories:
1 x 1700mAh Battery
1 x USB Cable
1 x Charger
Reviews
Audio problem when actually calling

Review by

Jagitc

In the first place it should be a phone but due some problem it is impossible for whomever i am talking to to understand anything I'm saying. The voice is really silent and there is a lot of static coming through. So far i'm not really impressed since it renders the phone pretty much useless... (Posted on 10/2/2015)

good, but very bad battery

Review by

Horea

Nice phone, but the battery is total crap, to the point that I will now have to change the phone. It doesn't even last half a day, under normal usage. Moreover, it takes very long time to recharge the battery - don't think you get to 30%, you start recharging it and it's fully charged within 1 hour or so, like any other phone. No, it will take about 2h30 to get 100% from 30%, provided that you have the right charger.
In fact, I don't even think it's the battery, but the architecture of the phone, as it gets very warm when used. A pity, for the rest it was not too bad. (Posted on 9/7/2015)

Great phone- terrible battery.

Review by

Dal

This may be just my unit, but my battery has failed within the first week of using the phone and am now trying to source one which is proving difficult in the UK.
Please help me Doogee!.
Othereise , very impressive phone and spec for the money.

Regards. (Posted on 8/18/2015)

Good phone for the price

Review by

Convinced

I just received the phone, although too late to bring for my travel.
First impression, the phone is light and display is not bad.
However I am still puzzled not being able to retrieve any of my SMS on the phone. The messaging icon said I have 3 messages , however whatever I do when I clicked on the icon there were no messages.
There must be something wrong with the settings but I don't know what. I have tried almost everything. Right now there are two SIM cards in the phone. I doesn't matter which SIM is active I still can't retrieve the SMS . Does anyone know how to solve this problem? Other than that the phone is very good. (Posted on 7/19/2015)

This phone is boss.

Review by

Pocopuckal

Better than any Samsung I've had and the sound with headphones on is better than on my iPad. Defo recommend. (Posted on 6/10/2015)

Language

Review by

Nessie

I'm in Spain, and usualy I use catalán as a language of my phones. In this case when typing catalán as a language the phone says IU has stopped and does a loop with that message repeating it. I need accept and after a lot of tryes I can restore Factory defaults, and the problema ends with spanish or english languarge
In spite of that the F1 is a great Smartphone and quality/Price very good. (Posted on 5/28/2015)

one of best low cost phone if not best...

Review by

Abbik

Build quality is realy good there is basicly nothing bad to point out.
frame aroud display could be smaller. And then phone could be smaller which vould be amazing, but since its low budget phone its not disturbing.
Display is OK. Performance is abow expected and even with only 1Gb RAM I did not faced any problem System is smooth. Battery life is not that good but still in expected level (one day with wifi+4g + 2active SIM all time + gps for about 2hours, two days if you use it without 4g and with wifi disabling when not needed)
Signal strenght is way better then my "old" Lenovo P780. And GPS fix was within 30sec even for first time. Gesture is working nice and audio quality during calls is clear. Camera quality is as expected (not that good not that bad) and backlight could be lower on lowest settings (its realy bright on highest :-)).
It seems that Doogee made realy good and cheap device. I hope that you make your promises and there will be upldate to lolipop soon. (Posted on 4/21/2015)
Write Your Own Review
Tags
Questions on Doogee F1 4G Android 4.4 quad core 1GB 8GB 4.5 inch Smartphone 5MP camera Black
Sort by

From calo at

2/5/2015 11:23 AM

From RAFIQ SHAH at

2/7/2015 8:26 PM

From Stijn Govaerts at

2/8/2015 7:36 AM

From kenan at

2/8/2015 11:37 PM

From Philooo at

2/10/2015 9:10 AM

Will the F1 support a-GPS? GLONASS? BEIDOU?

If not, may I suggest to your developper to build a small screen phone (max 4.5 inches) with LTE/4G, a good memory (16GB), a good positionning system, a good camera and 2 sim's cards ? No way to buy such a device !
Doogee Mobile
Thank you for your mail.
Thank you for your suggestion, we will improve.

From Shumirai Nyashanu at

2/21/2015 8:42 AM

From cluzas at

2/23/2015 5:33 AM

From user at

2/23/2015 2:00 PM

From user at

2/26/2015 12:38 AM

From Param Shah at

2/26/2015 12:40 AM

From user at

2/26/2015 1:53 PM

From Daniel at

2/27/2015 5:04 AM

Which frecuencies do it use for wcdma 3G?
In some web site a saw 850/2100 and in others sites I saw 850/900/1900/2100.
Can you confirm the frecuencies / bands for 3G?
And for 4G ???
Thanks.

Doogee Mobile
Thank you for your mail.
Doogee F1 support:
GSM: 850/900/1800/1900MHz
WCDMA: 850/900/1900/2100MHz
FDD-LTE: B1:2100, B3:1800, B7:2600, B20:800MHz

From andres at

3/1/2015 8:15 AM

From Alan at

3/2/2015 2:37 PM

Only two languages (English and chinese are supported?
Doogee Mobile
Thank you for your mail.
Doogee F1 support English, Spanish, Portuguese (Brazil), Portuguese (Portugal), Italian, German, Dutch, French, Polish, Romanian, Turkish, Russian, Arabic, Indonesian, Malay, Thai, Vietnamese, Hindi, Hebrew, Simplified Chinese, Traditional Chinese.

From Yuri at

3/2/2015 11:44 PM

From lolo at

3/3/2015 3:30 AM

From Dario at

3/4/2015 9:51 AM

Sorry to ask again what already was answered, but you said that SIM1 supports 4G/3G/2G and SIM2 only support 2G. In the pictures I see that SIM1 is normal size SIM and SIM2 is microSIM. Is this correct?
Can I put an adaptor to use my microSIM in the SIM1 slot to have 4G support?
Thanks!
Doogee Mobile
Thank you for your mail.
I'm sorry, MicroSIM supports 4G/3G/2G, Ordinary SIM support 2G.

From Chuck at

3/4/2015 11:03 AM

From Mark at

3/5/2015 2:05 AM

Has the phone been released yet? I am anxious to get my hands on it.
Doogee Mobile
Thank you for your mail.
Doogee F1 phone is in stock and ready to send,
you can buy here: http://www.pompmall.com/doogee-f1.html

From Yuri at

3/10/2015 10:32 PM

From Manuel at

3/11/2015 5:46 PM

I have already bought this phone two days ago. I am in New York and using Metropcs company which is running on T-Mobile network. I have to say sinca i got my phone has not acces to data internet 4G and 3G neither. So waht is going on? I am using the regular SIM card in SIM1 . Please tell me how can i solve this issue because i bought this phone beacuse is 4G but it is not working!!!

Tell me if metropcs is ok for this phone and what SIM i have to use to get 4G data as i had witth my old phone.

Awaiting your feedback
Doogee Mobile
Thank you for your mail.
Doogee F1 4G LTE can not work in USA.

From Manuel at

3/12/2015 6:01 AM

Are you serious? Before buy it I checked the network and It was OK in USA because T-mobile US is using LTE band 1700/2100 and this phone can use those bands, so I do not understand anything. Anyway what is 4g , SIM 1 or SIM 2?

Why are you sure this phone is not running 4G in USA?

awaiting your feedback,

Manuel
Doogee Mobile
Thank you for your mail.
I searched the Internet for T-mobile support of the frequency is 4G LTE B4 1700MHz and B2 1900MHz, does not support 2100MHz, so i think Doogee F1 can not work in USA, can you put the T-mobile support frequency table to us, we will check again.

From Attila at

3/15/2015 1:33 PM

I've bougth a Mini F1 a week ago and found that total space of phone storage is only 4.59GB and even that amount of memory is inaccessible for installing new apps, i receive "not enough space..." messages. Can you help me, what's wrong? Thank you. Attila
Doogee Mobile
Thank you for your mail.
Mobile phone system will occupy part of the space,
Do not use the application is uninstalled.

From Nelson at

3/17/2015 2:58 PM

From blownelco at

3/19/2015 3:28 PM

From Paul Mbugua at

3/20/2015 1:52 PM

Okay I just got this phone. I am looking for the user manual for this phone and it's nowhere to be found! I am just about to return it!!!!!!!!!
Doogee Mobile
Thank you for your mail.
You can download the user manual: http://www.doogeemobile.com/download

From me at

3/20/2015 2:10 PM

From ange at

3/22/2015 4:42 AM

From Rabbit at

3/22/2015 6:50 PM

From Tango at

3/22/2015 9:37 PM

From MG at

3/23/2015 11:43 PM

From Jim Le G at

3/24/2015 8:14 PM

Hi, 2 queations for you:

1: Is this the Dual SIM card phone that I have seen advertised as the F1model?

2: I'm in East coast Australia until the 30th of March and I need ot deliverd (If I order one) by then; Is there a Australian retailer in NSW or QLD that can deliver to me within this time frame?

Thanks.

Jim Le Gros.
Doogee Mobile
Thank you for your mail.
Doogee F1 Support Dual sims dual standby, Ordinary SIM, Micro SIM,
you will get your package in 3-5 business days around by Express, you may not receive the phone in March 30.

From kyle hodges at

3/26/2015 5:34 AM

Hi
My phone is having issues.
turning itself off.
Pictures no been able to be displated
some apps will not work

Is there going to be an update soon to fix these issues?
Doogee Mobile
Thank you for your mail.
Some programs conflict, causing the phone to automatically shut down.

From stanko at

3/26/2015 11:31 AM

hai!
i need instructions for use- doogee f1 turbo mini- download??
thanks
Doogee Mobile
Thank you for your mail.
Doogee Turbo Mini F1 User Manual: http://www.doogeemobile.com/download

From Dowdy at

3/27/2015 2:35 PM

Hi,

Will this phone work on Vodafone UK 4G?

Do you plan on updating to Android Lollipop in the future?

Thanks,

Tommy
Doogee Mobile
Thank you for your mail.
Doogee F1 4G LTE can work with Vodafone in UK,
you can buy here: http://www.pompmall.com/doogee-f1.html

From Maddie at

3/30/2015 5:57 PM

Do you guys have any plans to expand your 3G and/4g frequencies to the usa? Your products look epic-Not only do I want one but I know a bunch of people who don't want there cell phone bills to skyrocket just because they're old cell phone has stopped functioning. I would love to send them your way.
Doogee Mobile
Thank you for your mail.
We will put you advice feedback to Doogee company.

From kinta at

3/31/2015 11:29 AM

Hello
Great phone, but I will notice a few bad things:
- first jazz compiler in te framework - why doogee? How can I use Xposed Framework? Of course I can manualy deleting *.jex file, but it is only unnecessary complication of life.
- second - partitioning!!! who will had the idea the 1 GB internal storage is enough for all??? Especialy when we use SD card - phone storage is totally useless. Please give us the patch to resizing partitions (merge Internal and phone storage into the one big internal storage) - it is simple and safe. If I had oryginal ROM I could make this change myself - for you it is 5 minutes work. Gracefully users - until dead :)
- third - give us oryginal stock ROM. :) and CWM :)

thats all. I beg you - giva us patch to resize partition. kind regards

Doogee Mobile
Thank you for your mail.
Contact us: [email protected]

From hiro512 at

4/1/2015 8:29 AM

Hi. I am having problems with the camera. Sometimes when I want to acces the camera it says that the system can't access it. What can I do?
Doogee Mobile
Thank you for your mail.
Try to upgrade to the latest version of the system, if not improve, then enter the settings - application, find the camera, you can clear the data.

From kinta at

4/2/2015 7:32 AM

A lot of small bad thing... How can I change the sound of ringtone or alarm? the mp3 file or ogg is not compatibile. doogee... we need update firmware with all bug fixes, because the good phone at the moment is very very bad.
Doogee Mobile
Thank you for your mail.
I'm sorry, the system default sound can not be changed.

From kinta at

4/2/2015 5:39 PM

From Rick at

4/4/2015 3:26 AM

From Jeffers at

4/5/2015 11:12 PM

From Aamir at

4/6/2015 4:27 AM

Can you please tell me the price of this mobile. Thanks
Doogee Mobile
Thank you for your mail.
Doogee F1 Turbo Mini Special Price $119.99, you can buy here: http://www.pompmall.com/doogee-f1.html

From kbauerj at

4/6/2015 12:04 PM

Will there be an android lollipop update for Doogee f1 turbo mini?
Doogee Mobile
Thank you for your mail.
Doogee did not disclose the Android 5.0 firmware released date,
When we get the latest firmware, we will release here: http://www.doogeemobile.com/download

From Chamikara Jayawardena at

4/7/2015 1:29 AM

Hi

I am from the main Operator (Dialog Axiata )in Sri lanka and seeking carrier branded devices, your device quality is exceptional.

we would like to move the Dialog branded products to next level with quality devices. appreciate your comment on branding your devices with us.

thanks
Chamikara
0094777330406
Doogee Mobile
Thank you for your mail.

From V B at

4/8/2015 9:18 AM

My Doogee Turbo Mini F1 is downloaded to my Mazda CX5 via Bluetooth. However, when I try to make calls it disconnects, and I have to reset it each time. How can I make it to connect automatically when I enter the car and switch it on?
Otherwise, the phone is a gem, love it
Doogee Mobile
Thank you for your mail.
You can download the firmware update: http://www.doogee.cc/servicexiazai_detail/newsId=200.html

From Gordy at

4/8/2015 3:05 PM

Will the f1 turbo work with 3G & 4G in the UK. Also what will the language etc be inl for all the standard software/apps... Is it possible to get the phone in English as standard. Thanks
Doogee Mobile
Thank you for your mail.
Doogee F1 phone 3G & 4G can work in UK, we will help you set to English,
you can buy here: http://www.pompmall.com/doogee-f1.html

From Nyzen at

4/8/2015 9:54 PM

From rakesh at

4/8/2015 11:57 PM

From antonio at

4/9/2015 5:04 AM
Ask Your Own Question
You may also be interested in the following product(s)