Description
Details
Doogee F2 Smartphone use MT6732 Quad-Core 1.5GHz CPU, 1G RAM + 8G ROM with 5.0 inch 960*540 qHD screen, Android 4.4 OS, promises quite a fast operation speed is quite amazing and impressive. 5.0MP front camera for convenient self-capturing, 13.0MP back camera for you to record every single moment clearly; 4G, GPS, WiFi, Bluetooth, etc, all available to make it the most valuable choice to buy Doogee F2.
Capture the world at extreme speeds
4G speeds, 64 bits processor, 13.0MP camera, many modes to make your photos even more interesting.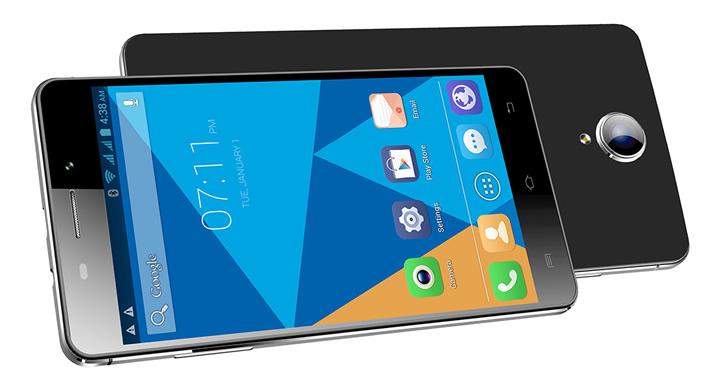 4G, speeds up to 150Mbps, watch HD movies, any where, any time
With FDD-LTE 4G support and speed up to 150Mbps, meaning that you can watch HD movies on the move, play online games, download big resolution pictures, ect... Whit dual sim, and dual standby, no need to own to phones to have two numbers.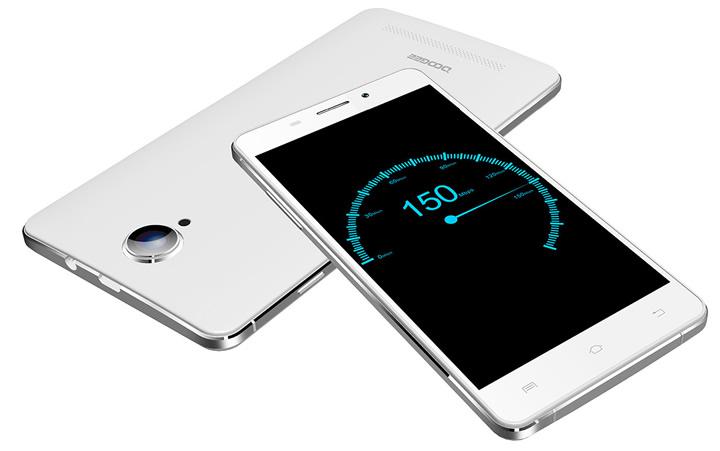 Quad-Core 1.5GHZ 64 bits processor, outsanding spect
The IBIZA F2 comes with a Quad-core MT6732 processor, with 4 A53 cores, and running at 1.5Gh. As a 64 bits processor, the MTK6732 performs more operations per second, and it is in general 2 times faster than a 32 bits processor using less memory.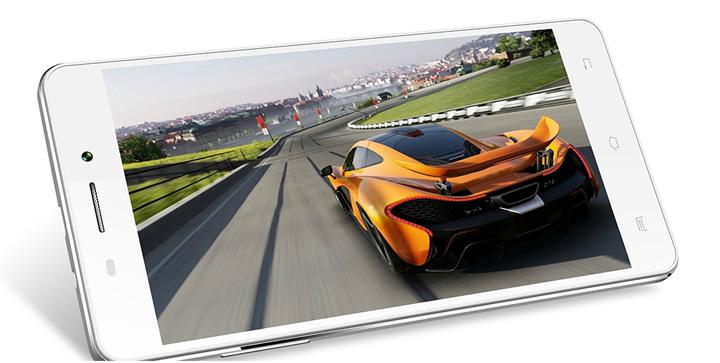 Aluminum alloy body, Of the same material as iPhone 5S
The same aluminium alloy the iPhone 5S is made of, high quality, light, beautiful.. Hard like a piece of sapphire, survives all falls.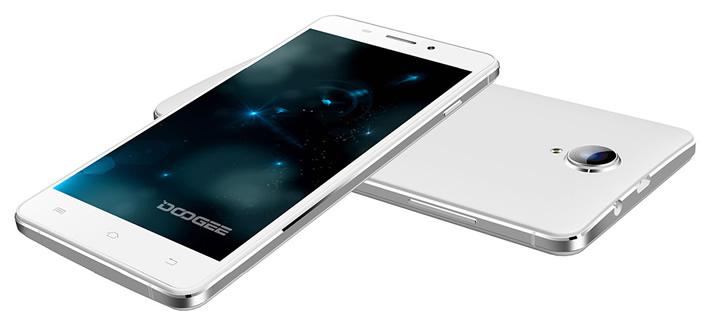 Photo editor, It is not only for playing
The IBIZA F2 photo editor comes with hats, bears, glasses and up to 55 other stickers to make your pictures funnier. But you can also, rotate them, magnify them, shrink them etc...Make your group pictures way more interesting.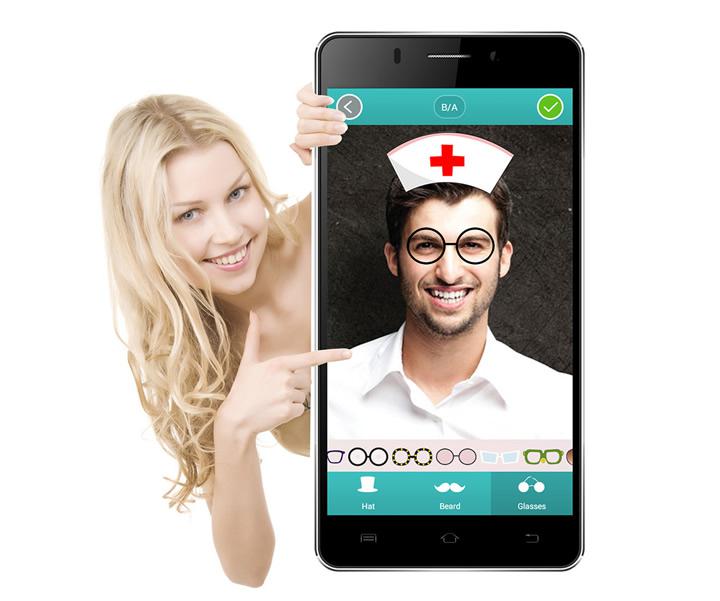 Doogee IBIZA F2 Smartphone Highlights:
- 5.0 inch, 960*540 pixels display
- MT6732 Quad-Core 1.5GHz
- 13MP back camera + 5MP front camera
- 1GB RAM + 8GB ROM
- Android 4.4

Doogee F2 Smartphone Basic Information
Model: Doogee IBIZA F2
Band: GSM 850/900/1800/1900MHz
        WCDMA 850/1900/2100MHz
         FDD LTE B1/B3/B7/B20(2100/1800/2600/800MHz)
SIM card: Support Dual sims dual standby, Ordinary SIM, Micro SIM
Service Provide: Unlocked
Color: Black
OS: Android 4.4
CPU: MT6732 Quad-Core 1.5GHz
GPU: Mali T760 MP2/500MHz
ROM: 8GB
RAM: 1GB
Display Size: 5.0 inch
Resolution: 960*540 pixels
Card Extend:Support TF card up to 64GB extended
Camera: Dual Cameras, 5.0MP front camera, 13.0MP back camera

Doogee F2 Mobile Phone Basic Function
Ringtones Type: Polyphonic/MP3
Audio File Format: MP3/WAV/AMR/AWB
Video File Format: 3GP/MPEG4
Image File Format: JPEG/BMP/GIF/PNG/GIF
E-book Format: TXT/CHM/DOC/HTML
FM Radio: Yes, earphone needed
Earphone Port: 3.5mm
Data transfer: USB/Bluetooth
Mobile internet: WAP/WiFi
Message: SMS/MMS
Input: Handwrite/Keypad
GPS: Yes
WIFI: Yes, 802.11 b/g/n
Bluetooth: Yes
Gravity Sensor: Yes
Multi-Touch: Yes, 5 point touch
Language: English, Spanish, Portuguese (Brazil), Portuguese (Portugal), Italian, German, Dutch, French, Polish, Romanian, Turkish, Russian, Arabic, Indonesian, Malay, Thai, Vietnamese, Hindi, Hebrew, Simplified Chinese, Traditional Chinese.
Other Feature: 4G, WIFI, GPS, FM, Bluetooth, Ebook, Email, Messaging, wallpapers, calendar, calculator, clock,camera, etc

Doogee F2 Mobile Phone Accessories:
1 x 2500mAh Battery
1 x USB Cable
1 x Charger
1 x earphone
1 x screen protector
1 x user manual
Reviews
nice

Review by

sulaiman

suitable for the price (Posted on 9/2/2015)
Write Your Own Review
Tags
Questions on Doogee F2 4G MT6732 quad core Android 4.4 Smartphone 1GB 8GB 5.0 inch 13MP camera Black
Sort by

From Farhan Ahmed at

3/16/2015 4:56 AM

From fitim at

3/21/2015 7:39 AM

From Alexandru Rusu at

3/22/2015 2:23 PM

From Joe at

3/23/2015 8:48 PM

From clare at

4/2/2015 2:31 AM

From jack at

4/5/2015 3:49 AM

From peter from Namibia at

4/13/2015 7:16 AM

is there any future upgrade to android 5.0 lollipop for this phone
Doogee Mobile
Thank you for your mail.
When we get the Doogee F2 Android 5.0 Lollipop firmware, we will release here: http://www.doogeemobile.com/download

From David Wood (UK) at

4/21/2015 2:57 AM

From hamza gulistan at

4/21/2015 3:58 AM

From Burton at

4/21/2015 5:49 AM

I have been using this phone for almost a week now and I have a problem with my front camera. Whenever I open it it says "Unfortunately, Gallery has stopped" and exits the camera.. How do I fix this?
Doogee Mobile
Thank you for your mail.
We will release the firmware to solve this problem.

From Ricardo at

4/22/2015 11:29 AM

From Gustavo at

5/14/2015 7:19 AM

I am an user of Doogee Valencia and I am happy with this phone.

Do you have a model with LTE 4G, band 4 and band 28? Those are the bands in my country ( Argentina).
Thanks,

Gustavo.
Doogee Mobile
Thank you for your mail.
Sorry, We do not have the 4G mobile phone support B4 and B28 frequency.

From Zlatko at

5/21/2015 8:21 AM

Hello, I just bought Doogee ibiza F2 model, so my question is, i cheked with 4 programs for CPU and it shows that my CPU is 1.3 not 1.5, does this product comes with 1,3? or something is wrong with the processor? and doest this model has indicator for missed calles and messages? like the titans 2 model?
Doogee Mobile
Thank you for your mail.
We are here Doogee official data.

From pete at

6/6/2015 1:22 PM

From rossi at

6/9/2015 12:26 PM

From Serge-Claver Tete at

6/14/2015 8:42 AM

From Nomi at

6/17/2015 1:56 AM

interested in the phone but living in South Africa. How can I buy it and how much does it cost?
Doogee Mobile
Thank you for your mail.
You can buy here: http://www.pompmall.com/doogee-f2.html

From giraffeonastick at

6/22/2015 2:17 PM

I have this phone.

When I turn it off, all data in the RAM is lost.

Messaging app is reset, keyboard is reset., app cache data is stopped (signs out of Facebook, for example).

How can I stop this please? Will you release a fix?
Doogee Mobile
Thank you for your mail.
We will develop the firmware to solve this problem.

From truemanjd at

6/26/2015 12:47 PM

From Sibil at

6/29/2015 6:11 AM

From miraj at

7/11/2015 2:51 AM

Hi, I bought the f2 last month. Great device! Neat features. Is there a way to move/install apps on /storage/sdcard0 (4.6GB) internal phone memory is only 1.2GB and I there is not enough space to install apps. Thnx!
Doogee Mobile
Thank you for your mail.
Please restart the phone, then install, uninstall not using APPS.

From Jorge Ruiz at

7/24/2015 10:03 PM

From naji at

8/8/2015 6:14 AM

hi,
i have purchased doogee ibiza2.

it is a very good phone and i am very glad to have it.

but i have a problem - the memory is not enough.
i have installed a SD card of 32GB.

in Settings>Storage i had set the preferences to "preferred install location: SD card" and "default write disk: SD card".
and yet, after i am installing several apps, it says that i have insufficient memory to install more apps.
the SD card, by the way, is not even close to be full.

have i misset something? can i do anything else except deleting apps or not installing them at all?

i hope you willl reply soon.

thank you very much,
naji.
Doogee Mobile
Thank you for your mail.
We will develop firmware to optimize the phone memory problem.

From J.M at

8/19/2015 1:48 AM

From Thanh at

8/21/2015 4:20 PM

I am Thanh from Viet Nam. I want purchase this phone. What is the price this phone at Viet Nam.
Doogee Mobile
Thank you for your mail.
I regret that we have no dealer or re-seller in Viet Nam,
Doogee F2 price is $144.99,
we support worldwide shipping , you can buy here: http://www.pompmall.com/doogee-f2.html

From gordon uk at

8/23/2015 7:45 AM

I have just started using the f2..i have installed 2gb memory card
when i switched the phone back on..it keeps saying it is safe to remove sd card.also all my pics on my gallery have gone..i then removed the sd card all my pics in the gallery are there...can you please help
kind regards
Gordon Marshall.
Doogee Mobile
Thank you for your mail.
Please try to change an SD card.

From Jonna at

8/25/2015 11:21 AM

From George at

8/26/2015 3:11 PM

From George at

8/27/2015 1:49 AM

Hello,
You said "Doogee F2 support wifi hotspot"
This means that it is possible to surf the net on a computer using the 3G or 4G connection via the wifi hotspot created by the Doogee F2 (this is a standard function of Android on most phones).

Please confirm it is possible to create a wifi hotspot with the Doogee Ibiza F2.
Thank you

Doogee Mobile
Thank you for your mail.
Settings ==> Wireless & networks ==> Portable hotspot

From anthony at

9/4/2015 7:29 AM

Hi,
what about magnetic sensor (magnetometer) for digital compass function support?
I think this mobile with metal frame is very suitable for outdoor activities, where compass is nearly necessity
Doogee Mobile
Thank you for your mail.
Doogee F2 does not support compass.

From Terence at

9/11/2015 5:15 AM

Hi I have just purchased a Doogee IBIZA F2 Smartphone from amazon and am very happy with many of the functions on the phone. However while I use the phone to call someone there is a buzzing sound coming from the ear piece on the phone and the person on the other end of the phone says that they here a buzzing while I am talking. This is not practical for when I am using the phone.
Could you please advise me of what the fault may be or do you think I sound return it back to amazon.
Thank you for your help.
Terence Robinson. (UK)
Doogee Mobile
Thank you for your mail.
Please contact the seller for replacement phones.

From xhon at

9/14/2015 2:28 PM

From Sophie at

9/17/2015 7:43 AM

Hi,

I recently got a doogee turbo F1 mini but unfortunately there is a problem with storage. I have a memory card inserted but the phone is not recognising it is there and won't let me save apps or files to it. Is there any updates or anything at all that can fix this? Could I please be sent a replacement phone if not.

Thank you
Doogee Mobile
Thank you for your mail.
Please check the SD card is good, If it is good, we will develop the firmware to solve this problem.
Any other question, contact us any time.
Best regards

From vladimir at

9/20/2015 10:17 PM

From vladimir at

9/21/2015 7:02 PM

the thing is that the official website there is no link to the firmware on the smart phone http://www.doogee.cc/servicexiazai_detail/newsId=202.html
Doogee Mobile
Thank you for your mail.
Doogee official has not been released firmware.
Any other question, contact us any time.
Best regards

From Fysoab at

9/26/2015 11:59 AM

Will you please do something about the storage?Give us the ability to store apps in the phone storage as well.Even if you move the apps to an external sd card a part of them remains in the inernal sd storage which is about 600MB which is not even close to sufficient space.Please be aware of this matter and develop a firmware.
Doogee Mobile
Thank you for your mail.
Thanks for your advice, we will feedback to our engineers.
Any other question, contact us any time.
Best regards

From Panagiotis Baziotopoulos at

10/8/2015 6:52 AM

From Steven at

10/9/2015 2:42 AM

Each time I switch off my phone or when I was abroad and switched off roaming, I loose my 3G/4G data connection. Only solution is to remove APN and reinstall it.

Car does not recognize address book of phone through bluetooth connection. Calling does work however.
Doogee Mobile
Thank you for your mail.
If you're in a foreign country, you need to re-set the APN.
Any other question, contact us any time.
Best regards

From Conny at

10/11/2015 5:14 AM

Hello,

what is the sar value for doogee ibiza f2 for head and body (EU and US)? And who is manufacturer for the cameras of this phone (e.g. Samsung)?
Doogee Mobile
Thank you for your mail.
Doogee F2 SAR is 0.328W/KG, this is our calculated result.
Doogee not released information on the camera.
Any other question, contact us any time,
Best regards

From jmannisto at

10/13/2015 2:00 AM

Hi!

When you will release new version of Android?
Do you fix the problem with memory issues? I can't update some apps because there is no free memory even apps are installed/moved to memory card.
And is is possible to remove those colorful squares behind the icons on new version of Android?
Doogee Mobile
Thank you for your mail.
You can download the latest firmware on the official website.
Any other question, contact us any time,
Best regards

From Nimue Breker at

10/21/2015 7:33 AM

Hello i am from Germany :)
I have bought the Doogee Ibiza F2 for about 3 Weeks on Amazon. Since a few days i have problems with the battery. The Phone doesn't load although i put it on the charging cabel.
I red on the page that there is the possibility to send it back. I want to ask how it works.
I hope you can help me.
Best regards
Doogee Mobile
Thank you for your mail.
Please contact the seller to apply for return.
Any other question, contact us any time,
Best regards

From Fysoab at

10/21/2015 10:28 AM

Can you please develop a firmware that unites the internal storage and the phone storage?Internal's storage space is not even nearly as enough to store apps.Moving the apps to an sd card is a solution but still internal storage fills out pretty quick.Please solve it.
Doogee Mobile
Thank you for your mail.
RAM is fixed and can not be changed.
Any other question, contact us any time,
Best regards

From Fysoab at

10/23/2015 11:33 AM

I asked you a question a couple of days ago about a memory issue but i think you misunderstood.I was not refering to ram memory.I was refering to internal storage memory in which you can store apps.That space is 1.12GB and about 600MB are availiable to me to store the apps i download.On the other hand there is the phone storage memory which has space of 4.5GB in which you can store music,photos and alla kind of files except apps.I want to unite those 2 different memories or at least have the ability to store apps to the phone storage(4.5GB) as well.Can you fix this?
Thanks for replying so quickly.
Doogee Mobile
Thank you for your mail.
We will develop firmware to optimize memory problems.
Any other question, contact us any time,
Best regards

From Ulf at

11/3/2015 3:15 AM

From Pemo at

11/5/2015 2:08 AM

If F2 hasn't Gorilla Glass, so what kind of glass is on surface? Is this glass similar to Gorilla Glass? Please write detailed info about glass on screen.
BR
Pemo
Doogee Mobile
Thank you for your mail.
We will improve the phone information.
Any other question, contact us any time.
Best regards

From Mark at

11/7/2015 12:33 AM

Every so often, I get a diagnostics screen - in Chinese. How do I exit this/these screens on purpose, rather than just pulling the battery and starting from scratch?
Doogee Mobile
Thank you for your mail.
Please download the firmware update.
Any other question, contact us any time.
Best regards

From Mauricio at

11/8/2015 9:10 PM

in one of your last responses you say "Doogee not released Android 5.0 firmware, you can download custom ROM" Do you have release the source code? or from where we can download a custom rom for fix the memory partition issue that your company put in the stock rom?
Doogee Mobile
Thank you for your mail.
You can look here: www.doogee.cc/download.php?DId=21
Any other question, contact us any time,
Best regards

From Daniel at

11/9/2015 4:07 AM

Some apps don't get their widgets on the widget list, among them is Google Keep, which I use a lot. I just can get the icon and that's it. How can I fix this?
Doogee Mobile
Thank you for your mail.
Long press 5 seconds, you can edit widgets.
Any other question, contact us any time.
Best regards

From Daniel at

11/10/2015 12:44 AM

That's not what I meant in my last question. I know that pressing 5 seconds gets the widget list. But when I do that there are several widgets missing. Is there a problem with your software to accept some apps widgets?

Also when rebooting some of the apps are not in the main screen anymore.

Please fix this
Doogee Mobile
Thank you for your mail.
We will develop firmware to optimize this issue.
Any other question, contact us any time.
Best regards

From Mauricio at

11/11/2015 7:10 PM

Hi,

in my question from 11/8/2015 you say: "You can look here: www.doogee.cc/download.php?DId=21" this is a ROM for a Doogee DG350 not for Ibiza F2, can you release the right source code? this phone have too much bugs, if you cant fixed it, please let the developers try.
Doogee Mobile
Thank you for your mail.
We will put your problem feedback to Doogee engineer.
Any other question, contact us any time,
Best regards
Ask Your Own Question
You may also be interested in the following product(s)