Description
Details
DOOGEE Collo DG100 has a MTK6572 Cortex A7 dual core, 1.3GHz processor which makes the phone work very fast. It supports Android 4.2 operating system, supports an external TF card up to 32GB. 4.0 inch screen allows the user to view videos and play games at a comfortable size as well as clearly due to this phone's 800 x 480 pixels display resolution. With the high end dual cameras, front 2.0 MP, black 5.0 MP with flashlight auto focus, you can record the happy moment easily. It is absolutely a good choice to buy one.
High pixel camera, 5.0M pixel camera
5.0M pixel rear camera, excellent to take bright and clear photo, Superfine pixel spacing & screen delicate. The front camera is 2M pixel, with smart beauty camera function, it is more suitable for self-photo-shot.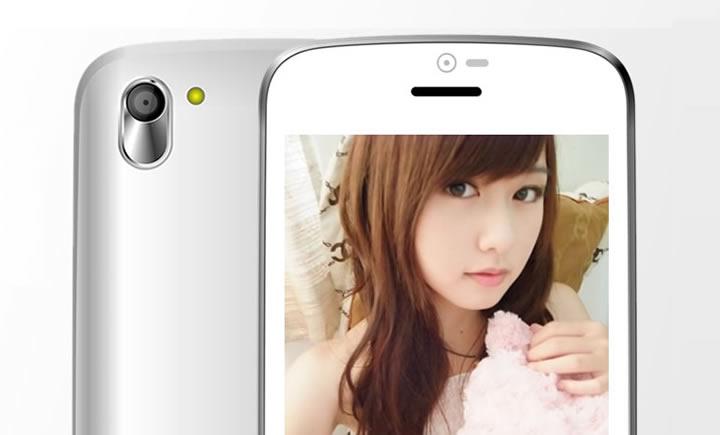 Extremely clear, best view
DG100 has ultra-sensitive touch retina screen, Pure color and text, pictures, feel like floating on the hand--highest quailty touching experience.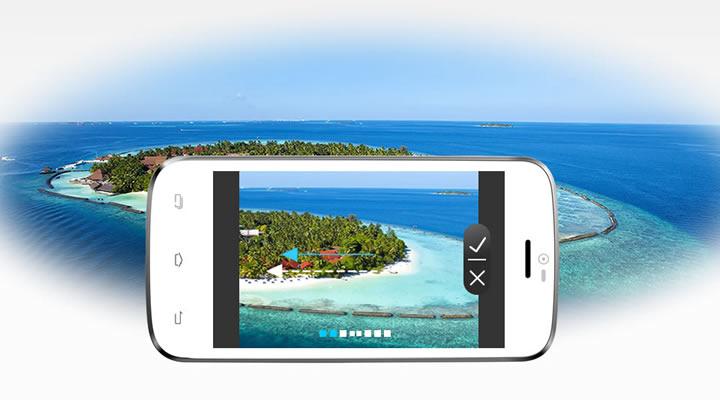 Android 4.2.2 intelligent operating system
Equipped with Android 4.2.2 smart correspondent, vast application download, you can experience the endless fun playing with the application, The new processing architecture, which make DG100 exerting a strong performance.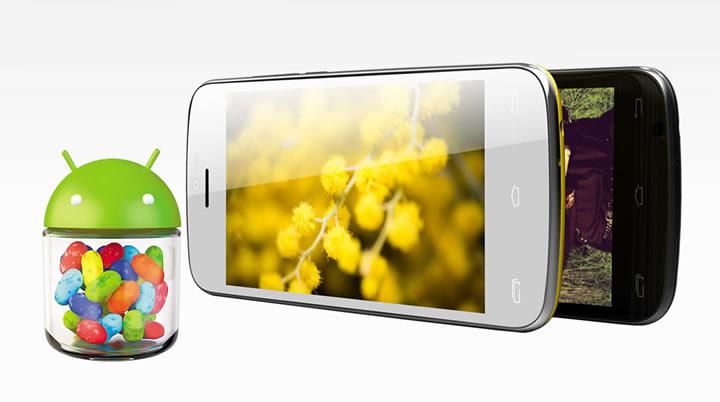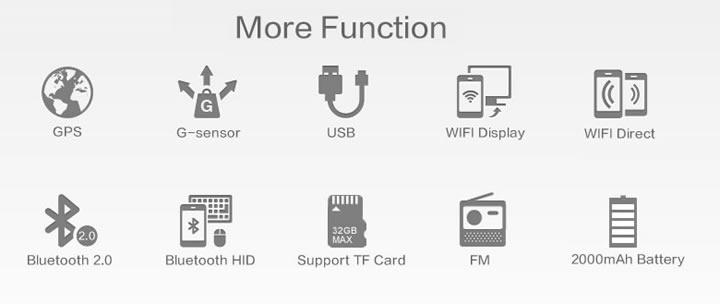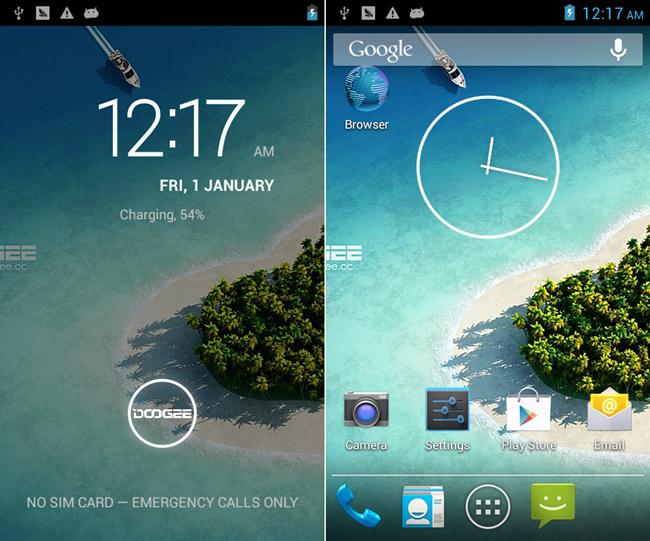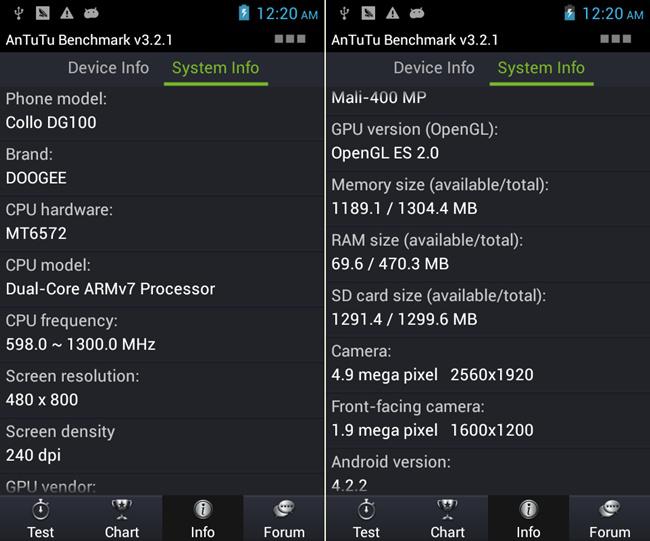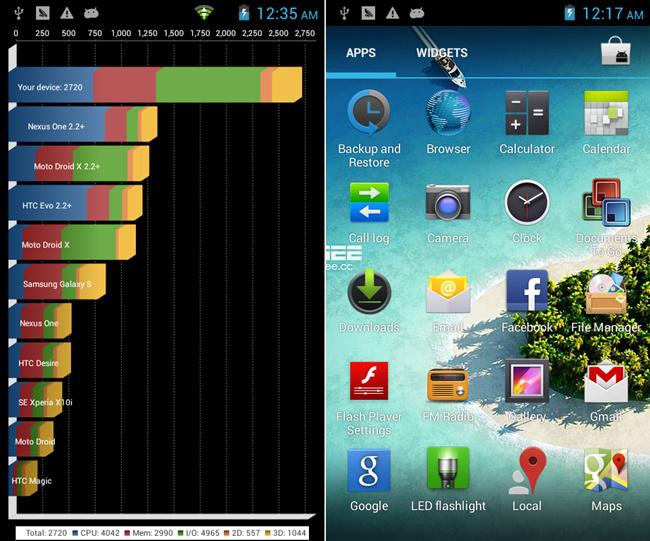 DOOGEE DG100 Smartphone Highlight:
- 4.0 inch screen, 800 x 480 pixel display
- MTK6572 Cortex A7 dual core, 1.3GHz
- 512MB RAM, 4GB ROM
- 5.0MP rear camera, 2.0MP front camera
- Android 4.2

DOOGEE DG100 Smartphone Basic Information
Model: DOOGEE Collo DG100
Band: 2G: GSM 850/900/1800/1900MHz
         3G: WCDMA 850/2100MHz
Sim Card: Dual SIM Card Dual Standby
Service Provide: Unlocked
Style: Bar
Color: Black
Shell Material: Plastic
OS: Android 4.2
CPU: MTK6572 Cortex A7 dual core, 1.3GHz
ROM: 4GB
RAM: 512MB
Display Size: 4.0 Inch
Type: IPS, Capacitive touch screen
Resolution: 800 x 480 pixels
Screen Color: 16000K Colors
Card Extend: Support TF card up to 32GB extended
Camera/Picture Resolution: Dual Cameras, front camera 2.0MP, back camera 5.0MP with flashlight

DOOGEE DG100 Mobile Phone Basic Function
Ringtones Type: Polyphonic/MP3
Audio File Format: MP3/WAV/AMR/AWB
Video File Format: 3GP/MPEG4
Image File Format: JPEG/BMP/GIF/PNG/GIF
E-book Format: TXT/CHM/DOC/HTML
FM Radio: Yes, earphone needed
Earphone Port: 3.5mm
Data transfer: USB/Bluetooth
Mobile internet: WAP/WIFI
Phonebook: 500
Message: SMS/MMS
Input: Handwrite/Keypad
WIFI: Yes, 802.11 b/g/n
Bluetooth: Bluetooth 2.0
Gravity Sensor: Yes
Multi-Touch: Yes, 2 points touch
Standby Time: About 2~3 days
GPS: Yes, built in, also support A-GPS With EPO assistance to speed up postioning
Language: English, Bahasa Indonesia, Bahasa Melayu, Cestina, Deutsch,Spanish, Filipino, French, Italiano, Magyar, Nederlands, Polski,Portugues, Romana, Slovencina, Slovenscina, Vietnamese,Turkish, Greek, Russian, Hebrew, Persian, Hindi, Thai, Korea,Simplified/Traditional Chinese
Other Feature: WiFi, GPS, FM, camera, Bluetooth, play store, Email, Gmail, maps,navigation, Tethering & portable hotspot, VPN, etc

DOOGEE DG100 Mobile Phone Accessories:
1 x 2000mAh Battery
1 x Earphone
1 x USB Cable
1 x Charger
1 x Screen Protector
1 x Flip Cover
1 x User Manual

DOOGEE DG100 Mobile Phone size: 126 x 64 x 10mm
DOOGEE DG100 Mobile Phone Weight: 116g
Reviews
The best and irreplaceable in the world

Review by

Prophet Mohammad

This phone is far more powerful than all supercomputers in this world. Made in China smartphones rocks! DOOGEE for life. Apples sucks. DOOGEE Rules! (Posted on 7/17/2014)
Write Your Own Review
Tags
Questions on DOOGEE DG100 Smartphone Android 4.2 Dual Core 1.3GHz 4.0 Inch IPS Screen Black
Sort by

From Mimi at

4/27/2014 11:44 AM

From User at

5/16/2014 10:19 AM

I am thinking about buying your products and would like to know where in Europe (Slovenia) warranty (guarantee) can be caried out?
Doogee Mobile
Thank you for your mail.
All our product are under one year warranty. (Excluding the accessories).
If any problems ,please contact our after-sale customers service any time .

From dwight bolton at

5/24/2014 8:52 AM

From anastasios at

7/16/2014 2:26 AM

From anastasios at

7/16/2014 11:32 AM

It was my misrake that i didn' t explain the problem. I have a doogee dg100 phone and the problem is that i can hear when they speak to me. They told me that the headphone ( if this the right name) burned out.
Doogee Mobile
Thank you for your mail.
You can hear them speak, but they can not hear you, is this mean? if yes, restart the phone, or turn off the phone, remove the battery, and then install and boot.

From anastasios at

7/17/2014 6:02 AM

I don't know if you receive my last e-mail so i send a new one to explain you the problem. The problem is that they can hear me but i can't hear them. Thank you for responding.
Doogee Mobile
Thank you for your mail.
When appear this problem, please turn off the phone, remove the battery, and then install and boot.

From Sherwin at

7/24/2014 11:08 AM

I have a doogee collo 100 and after a few weeks after I got it there are 'ghost' touches on the screen. Apps activate for no reason. I've updated the firmware but it hasn't helped. Is there anything I can do to fix this??
Doogee Mobile :
Thank you for your mail .
Could you kindly tell us your order number firstly ?

From anastasios at

7/29/2014 3:56 AM

From Diego Goren at

8/31/2014 10:35 AM

From David at

9/2/2014 10:14 AM

From Pedro at

9/11/2014 8:56 AM

From hakan at

9/12/2014 4:03 PM

From sakis at

9/20/2014 11:04 AM

From Doogee Mobile at

10/30/2014 7:33 PM

problem with my camera says that black 5.0 MP with flashlight auto fotsus and she takes a picture with VGA quality. WHY. try the settings but it is not. Should adding Programme (APP) to achieve 5.0 MP
no auto focus

проблем с моята камера пише че е black 5.0 MP with flashlight auto фоцус а тя прави снимка с качество VGA. ЗАЩО. пробвам с настройките но не става. трябва ли прибавяне на програма (апп) за постигане на 5.0 MP
няма и авто фокус
Doogee Mobile
Thank you for your mail.
You can download a camera APP.

From dg100 at

11/3/2014 11:59 AM

From john at

11/13/2014 12:33 PM

From ATHANASIOS PARNASSOS at

1/15/2015 3:11 AM

From MikhailZ at

1/21/2015 6:05 AM

From Palynno at

3/15/2015 3:06 AM

Hi! I have phone 1 and 1/2 years old. My battery in phone losing capacity. On display indicate battery 90%, but the phone switches itself off.... ...If charging battery, indicate enough capacity, but phone again switches itself off after a few minutes....Where is problem???
Doogee Mobile
Thank you for your mail.
Mobile phone and battery bad contact.

From name at

4/13/2015 12:44 AM

From winnie at

6/3/2015 11:18 PM

Can any one please help I got a doogee DG100 last year for Christmas. But now I can use it it does gost touches and its not even in English any more and I don't know were to find the setting to change back to English some one please help
Doogee Mobile
Thank you for your mail.
Settings ==> Languages ==> English(设置==>语言==>英语)

From ron at

6/9/2015 11:29 AM

Hi,

I have a problem Collo DG100
I cannot basically install any application on my device,

Please advice action to resolve the issue.

Thanks
Doogee Mobile
Thank you for your mail.
Maybe RAM space is not enough, please uninstall without the use of the APP, restart the phone, and then try to install the APP.

From emeka at

6/11/2015 2:50 PM

From Cristina Maria ferreira at

7/26/2015 11:02 AM

Boa tarde.
Tenho um doogee dg100 ainda em garantia comprado em dez 2013. a bataeria nao dura nada e da sinnal de sobreaquecimento. As pessoas ligam me ouvem me emas eu não as oico como faço? preciso de resolver o problema

Doogee Mobile
Thank you for your mail.
Please restart your phone.

From ALFONSO BRAVO at

8/11/2015 3:39 AM

I need a new Battery for my mobile DG 100 and i don't find in spain. could you tell me if this battery is compatible with other models Mobile (of Doogee or other brands).

Best regards.

Alfonso.
Doogee Mobile
Thank you for your mail.
We sincerely regret to tell you that we don't provide the parts sell at present .

From jordan at

8/19/2015 8:06 AM
Ask Your Own Question