Description
Details
DOOGEE CoLLo 2 DG120 has a MTK6572, Cortex A7 dual core, 1.3GHz processor which makes the phone work very fast. It supports Android 4.2 operating system, supports an external TF card up to 16GB. 3.5 inch screen allows the user to view videos and play games at a comfortable size as well as clearly due to this phone's 480 x 320 pixels display resolution. With the high end dual cameras, front 1.3 MP, black 2.0 MP with flashlight auto focus, you can record the happy moment easily. It is absolutely a good choice to buy one.
3.5 Inch IPS screen
Using IPS wide viewing angle screen. No matter from which angle you can enjoy the ideal image of high-definition, bright colors, saturated. Due to the unique level IPS screen molecular structure, which let it no watermarks, shadow and flickering when you touch, it's very stable.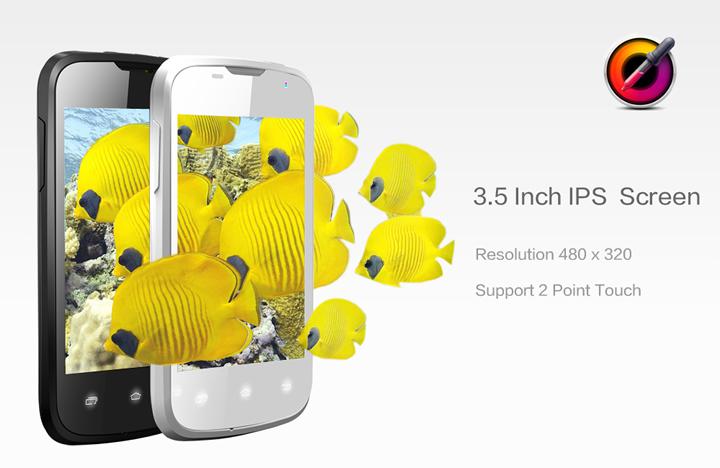 Dual camera
2M pixel rear camera, excellent to take bright and clear photo, Superfine pixel spacing & screen delicate. By 5 groups of special lenses and blue glass infrared filter, restore the true color, bring more shot funs. The front camera is 1.3M pixel, with smart beauty camera function, it is more suitable for self-photo-shot.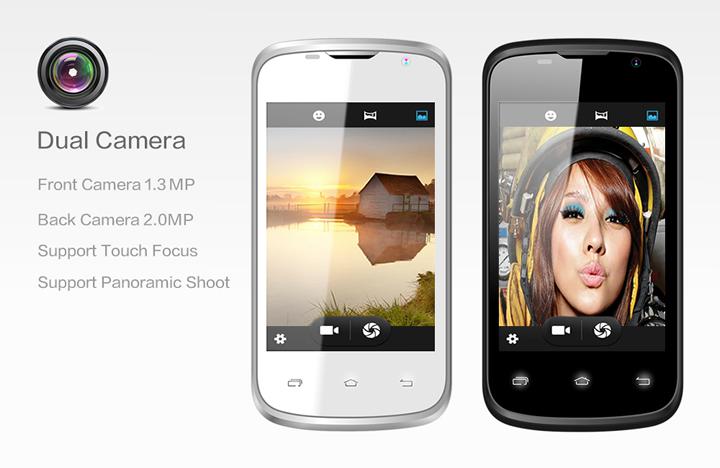 Perfect Design
DG120 delicate appearance design, the company adhering to keep improving the product concept, In DG120 fuselage back, used enchase liquid metal design, with strong metal texture to reinforce the fuselage, so that let the phone looks more fashion and show more sense of science and technology in design, let the user feel more comfortable.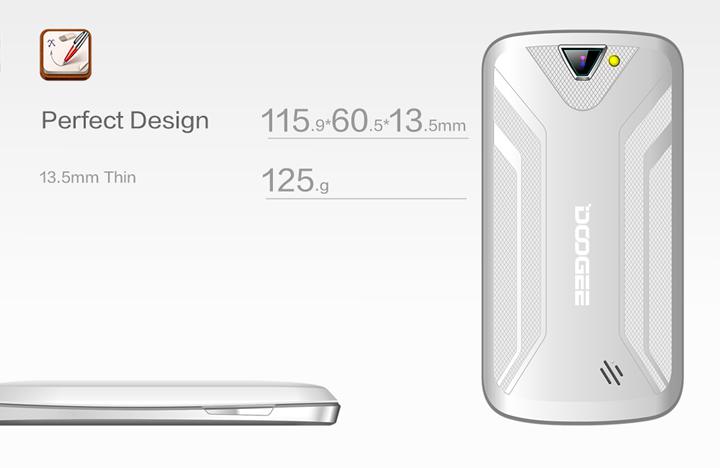 Dual sim dual standby
Dual sim dual standby DG120 configuration, work and life freedom of choice. Never miss out on important calls, Support WCDMA and GDM network, which can meet your demand of using dual sim card, Dual sim dual standby allows you to work form some private life, business, non-interference in each other, to achieve the perfect balance life and work.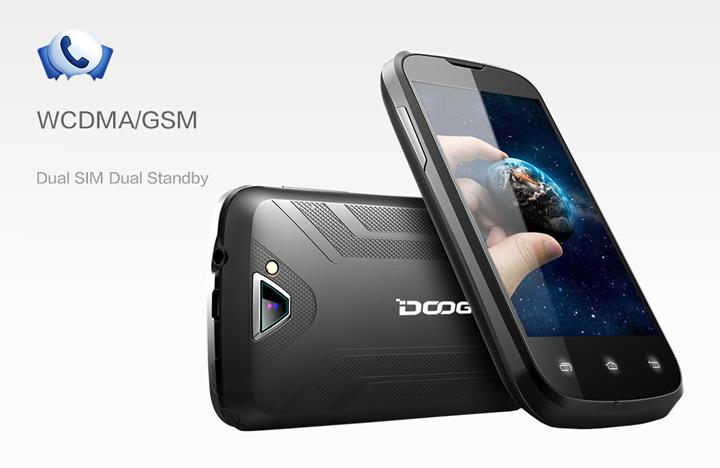 Big battery long standby
DG120 adopts 3000 mah large capacity battery. Support quick charge, 12 hours of talk time and 24 hours of standby time, 4 hours of video playback time, DG120 form screen, processor, and the optimization of low-power system is made.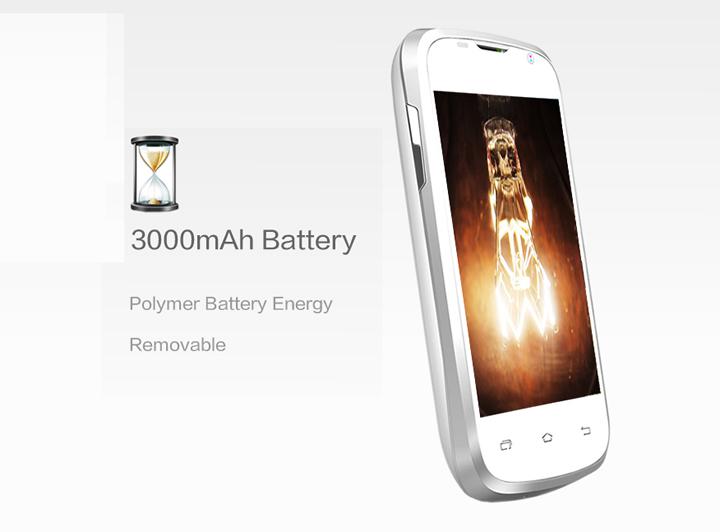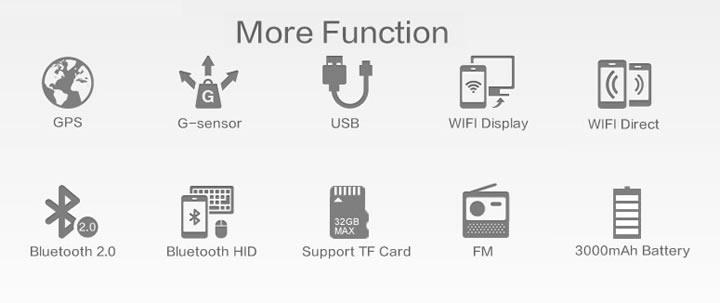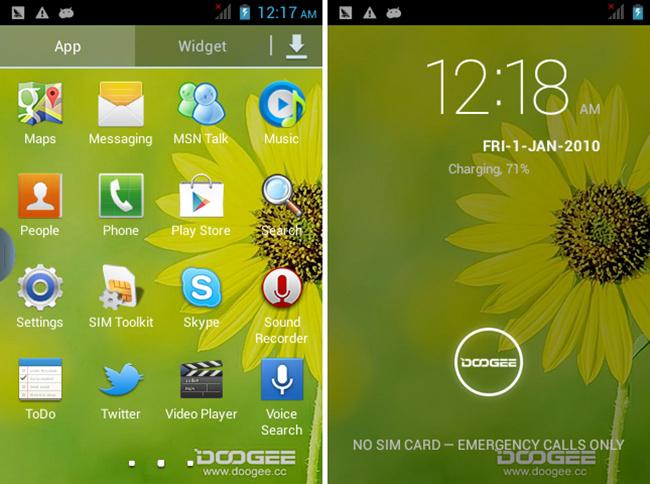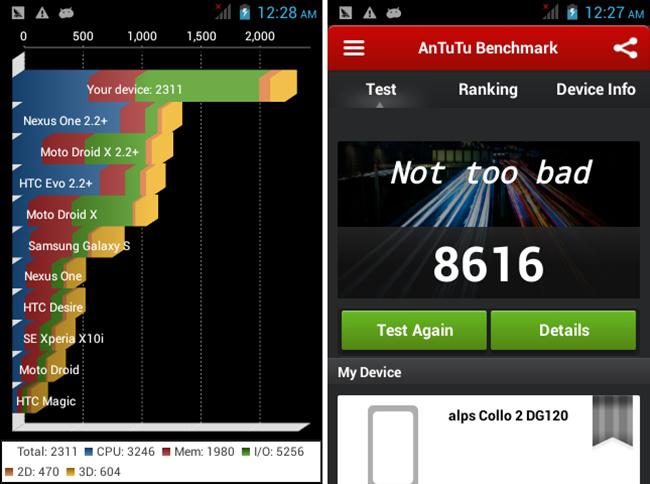 DOOGEE DG120 Smartphone Basic Information
Model: Doogee CoLLo 2 DG120
Band: 2G: GSM 850/900/1800/1900MHz
         3G: WCDMA 850/2100MHz
Sim Card: Dual SIM Card Dual Standby
Service Provide: Unlocked
Style: Bar
Color: Black
Shell Material: Plastic
OS: Android 4.2.2
CPU: MTK6572, Cortex A7 dual core, 1.3GHz
ROM: 512MB
RAM: 256MB
Display Size: 3.5 Inch
Type: TFT, capacitive touch screen
Resolution: 480 x 320 pixels
Screen Color: 260K Colors
Card Extend: Support TF card up to 16GB extended
Camera/Picture Resolution: Dual Cameras, 1.3MP front camera, 2.0MP back camera with flashlight, up to 2048×153 pixels resolution

DOOGEE DG120 Mobile Phone Basic Function
Ringtones Type: Polyphonic/MP3
Audio File Format: MP3/WAV/AMR/AWB
Video File Format: 3GP/MPEG4
Image File Format: JPEG/BMP/GIF/PNG/GIF
E-book Format: TXT/CHM/DOC/HTML
FM Radio: Yes, earphone needed
Earphone Port: 3.5mm
Data transfer: USB/Bluetooth
Mobile internet: WAP/WiFi
Phonebook: 500
Message: SMS/MMS
Input: Handwrite/Keypad
TV: No
JAVA: No
WIFI: Yes, 802.11 b/g/n
Bluetooth: Bluetooth 2.0
Gravity Sensor: Yes
Multi-Touch: Yes, 2 point touch
Standby Time: About 2~3 days
GPS: Yes, built in, also support A-GPS With EPO assistance to speed up postioning
Language: English, Bahasa Indonesia, Bahasa Melayu, Cestina, Deutsch,Espanol, French, Italiano, Nederlands, Polski, Portuguese,Romana, Slovencina, Slovenscina, Vietnamese, Turkish,Greek, Russian, Hebrew, Arabic, Persian, Hindi,Thai, Simplified/Traditional Chinese  
Other Feature: 3G, WiFi, GPS, FM, Bluetooth, Ebook, Email, Messaging, Wallpapers,Calendar, Calculator, Clock, Camera, Play Store,Tethering & portable hotspot, etc

DOOGEE DG120 Mobile Phone size: 116 x 60 x 13.5mm/4.57 x 2.36 x 0.53 inch
DOOGEE DG120 Mobile Phone Weight: 117g

DOOGEE DG120 Mobile Phone Accessories:
1 x 3000mAh Battery
1 x Earphone
1 x USB Cable
1 x Screen Protective Film
1 x Charger
1 x User Manual
Reviews
Tags
Questions on DOOGEE DG120 Android 4.2 MTK6572W Smartphone 3.5 Inch 2.0MP camera Black
Sort by

From GEORGE,G. at

6/4/2014 3:11 PM

From Zeno at

6/15/2014 11:09 AM

From thulani at

8/9/2014 4:42 PM

From uissidio at

8/11/2014 10:42 PM

From Ovidiu at

8/21/2014 10:38 AM

How to select where to be downloaded and installed the applications?
I can't select from my Doogee where to download and/or install applications!
Thank you!
Doogee Mobile
Thank you for your mail.
You can in the Google Play Store downloaded and installed the applications.

From Assad Abdalla Ghazal at

8/23/2014 5:41 PM

From Miri at

8/28/2014 4:26 AM

Hi, I'm unable to downlode apps - I get a msg "not enough memory". I put in a SD card but it won't dowenlode to SD. I've tried to downlowde thru Google play store - without success !!
Please advice.
thank you.
Doogee Mobile
Thank you for your mail.
Please set the default storage location to SD card.

From Diego at

9/17/2014 7:38 PM

Hi, I'm unable to download apps - I get a message "not enough memory". I put in a SD card but it doesn't download to SD.
I have already set the SD card as default storage location through the settings menu but it doesn't work.
Any advice?
Doogee Mobile
Thank you for your mail.
Please APP transferred to the SD card, delete unwanted APP.

From Gman at

10/10/2014 8:51 AM

From Gajendra at

5/12/2015 8:27 AM

Hello,

I have purchased Doogee Phone.
Model No. is showing as "Style Energy" in the Android settings.
It looks like DG120 model on your website.

Can you please send me download link for latest firmware and user manual ?

Thanks


Doogee Mobile
Thank you for your mail.
Here: http://www.doogeemobile.com/download

From Gajendra at

5/13/2015 2:12 AM

From Gajendra at

5/14/2015 2:12 AM

From Gajendra at

5/17/2015 3:24 AM

Hello,
l shall wait for latest version but in the meanwhile can you please give me link to download the image for existing Firmware of the DG120 ?
Current FIrmware is Android version 4.2.2.

Thanks
Doogee Mobile
Thank you for your mail.
When we get the latest firmware ROM, we will update it on our website.

From laura at

6/16/2015 10:15 AM

Hi, I have one of these.
When I want to download an app, it says I don't have enough space.
The SD card is selected as default, but the downloaded apps don't go there. Also, when I check the apps menu on settings, I cant move the downloaded apps to the SD card, so I check the SD card menu, and it says it has no apps in there.
What can I do?
Doogee Mobile
Thank you for your mail.
Please uninstall some useless APPS.

From Nigel at

7/16/2015 6:48 AM
Ask Your Own Question