Description
Details
Doogee RAINBOW DG210 has a MTK6572, dual core, 1.3GHz processor which makes the phone work very fast. It supports Android 4.2 operating system, supports an external TF card up to 32GB. 4.5 inch screen allows the user to view videos and play games at a comfortable size as well as clearly due to this phone's 854*480 pixels display resolution. With the high end dual cameras, front 2.0 MP, black 5.0 MP with flashlight auto focus, you can record the happy moment easily. It is absolutely a good choice to buy one.
Well-designed, clarify originality
DG210 exquisite craft. Smooth body lines are simple design, surrounded by silver metal, to increase the aesthetic design with metal texturl texture super technology, more stylish design, more comfortable grip.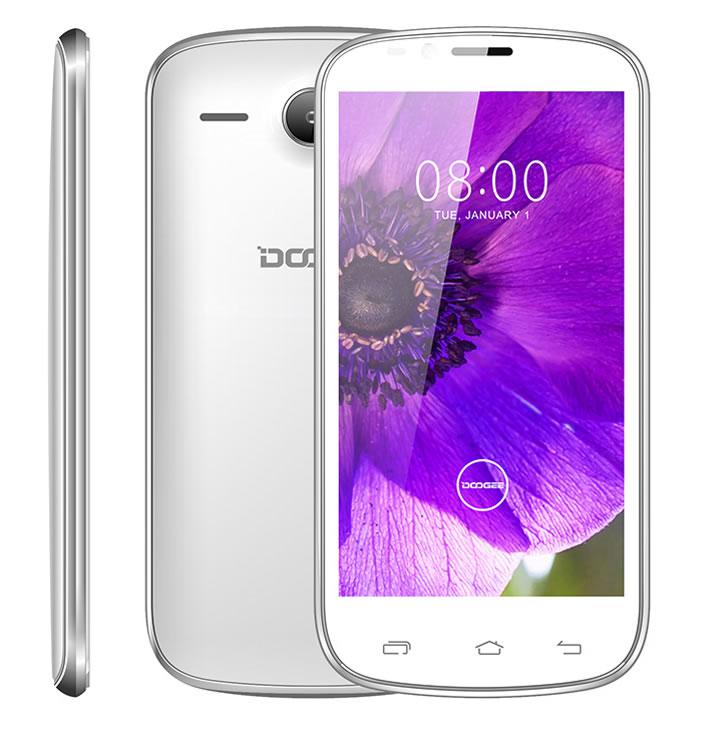 Golden Ratio, comfortable visual
16:9 golden ratio, the picture is more consistent with the visual proportions of the human eye. Combined with IPS wide viewing angle, you can enjoy the ideal picture of nature with comfortable, bright, saturated no matter form which angle.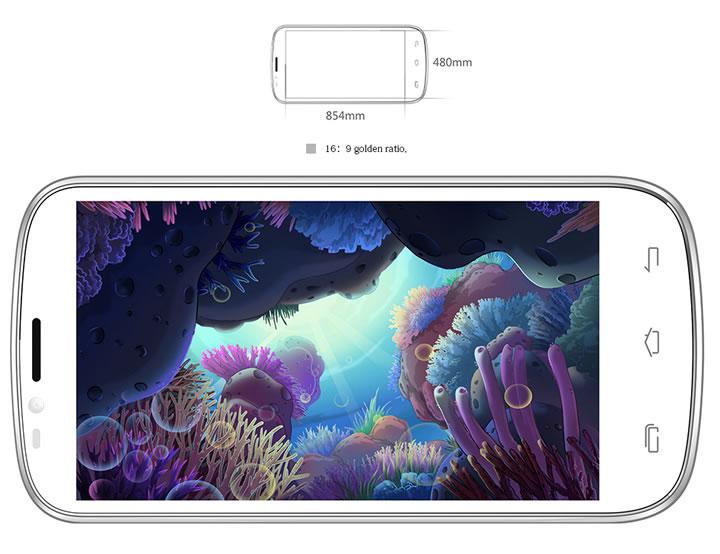 Android 4.2.2 intelligent operating system
Equipped with Android 4.2.2 smart correspondent, vast application download, you can experience the endless fun playing with the application, The new processing architecture, which make DG210 exerting a strong performance.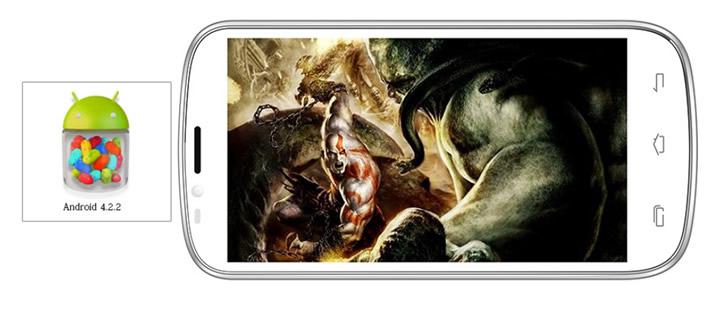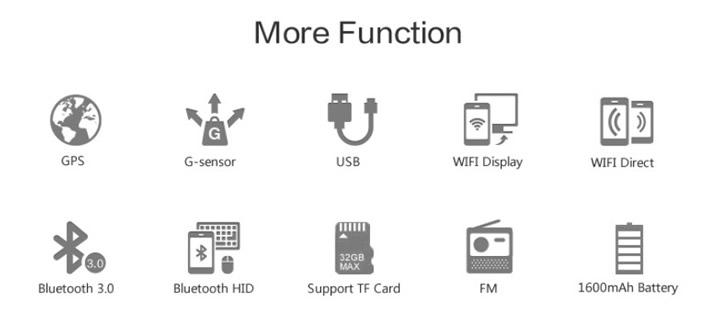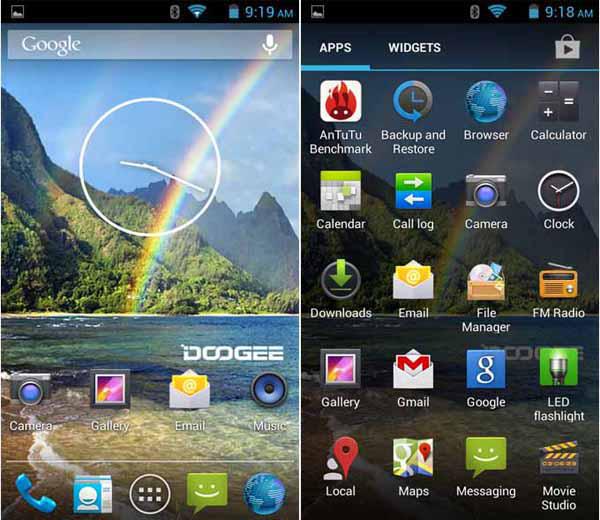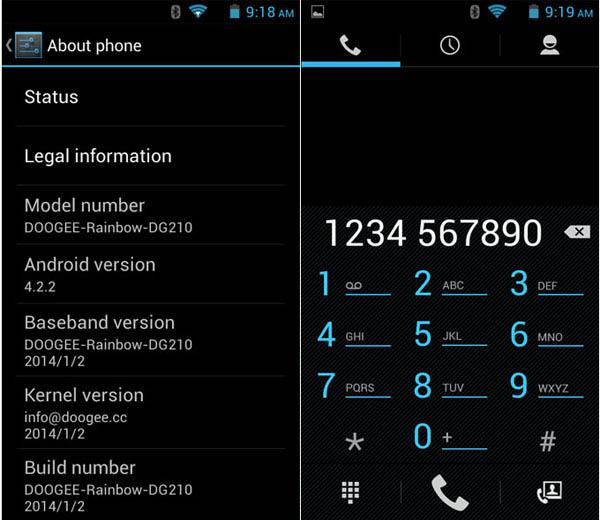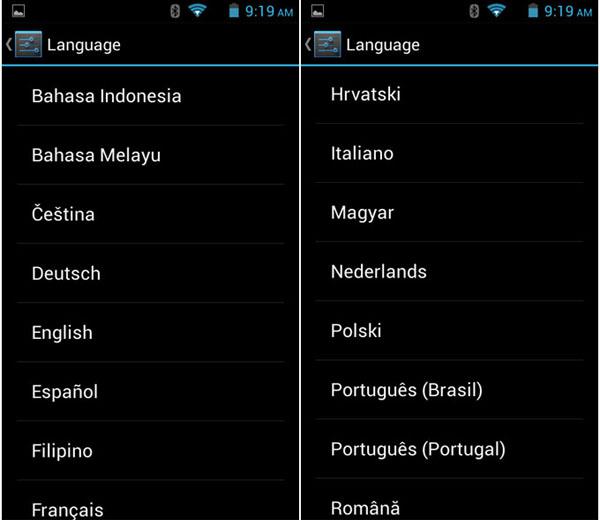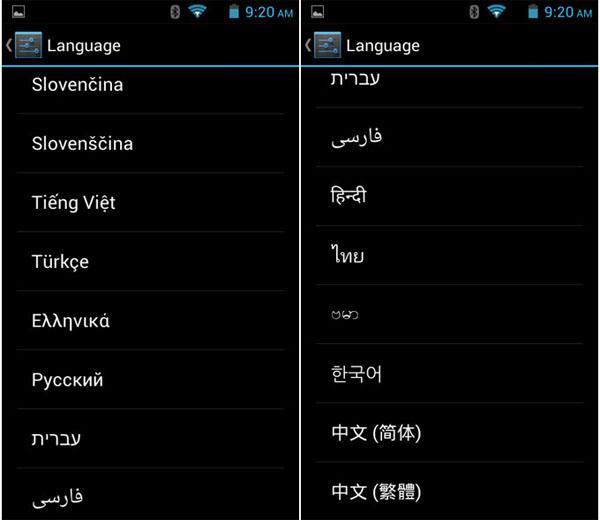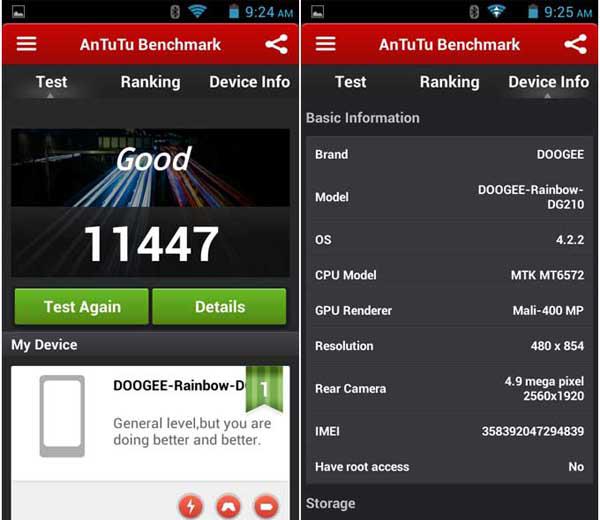 DOOGEE DG150 Smartphone Highlight:
- 4.5 inch screen, 854*480 pixel display
- MTK6572, dual core, 1.3GHz
- 512MB RAM, 4GB ROM
- 5.0MP rear camera, 2.0MP front camera
- Android 4.2

Doogee RAINBOW DG210 Smartphone Basic Information
Model: DOOGEE TURBO DG2014
Band: 2G: GSM 850/900/1800/1900MHz
         3G: WCDMA 850/2100MHz
Sim Card: Dual SIM Card Dual Standby(one Micro SIM card)
Service Provide: Unlocked
Shell Material: Plastic
OS: Android 4.2.2
CPU: MTK6572, dual core, 1.3GHz
ROM: 4GB
RAM: 512MB
Display Size: 4.5 Inch
Type: IPS LCD Screen G+F capacitance screen
Resolution: 854*480 pixels
Card Extend: Support TF card up to 32GB extended
Camera/Picture Resolution: Dual Cameras, 2.0MP front camera, 5.0MP back camera with flashlight

Doogee RAINBOW DG210 Mobile Phone Basic Function
Ringtones Type: Polyphonic/MP3
Audio File Format: MP3/WAV/AMR/AWB
Video File Format: 3GP/MPEG4
Image File Format: JPEG/BMP/GIF/PNG/GIF
E-book Format: TXT/CHM/DOC/HTML
FM Radio: Yes, earphone needed
Earphone Port: 3.5mm
Data transfer: USB/Bluetooth
Mobile internet: WAP/WiFi
Phonebook: 500
Message: SMS/MMS
Input: Handwrite/Keypad
TV: No
JAVA: No
WIFI: Yes, 802.11 b/g/n
Bluetooth: Bluetooth BT3.0
Gravity Sensor: Yes
Multi-Touch: Yes, 5 point touch
Standby Time: About 2~3 days
GPS: Yes, built in, also support A-GPS With EPO assistance to speed up postioning
Language: English, French, Italian, Chinese simplified, Chinese traditional,etc.
Other Feature: Calculator, E-mail, Gmail, Clock, Calendar, Galleries, Music, Sound Recorder, Video Player, File manager, FM Radio, etc.

Doogee RAINBOW DG210 Mobile Phone size: 136.5*67.4*10.3mm
Doogee RAINBOW DG210 Mobile Phone Weight: 120g

Doogee RAINBOW DG210 Mobile Phone Accessories:
1 x 1600mAh Battery
1 x USB Cable
1 x USB Charger
1 x Earphone
1 x User Manual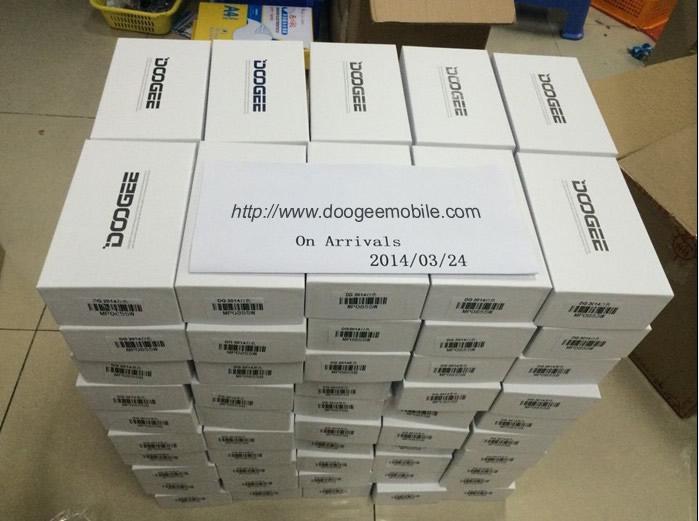 Reviews
Tags
Questions on Doogee DG210 Smartphone Android 4.2 MTK6572 dual core 4.5 Inch 5MP camera
Sort by

From Cyber at

5/16/2014 10:09 AM

From rubin at

6/1/2014 2:40 AM

What happens if i buy from your website from UK, do i need to pay import duty and shipping charges?
Doogee Mobile
Thank you for your mail.
We are not sure about your local customs, but we can help you reduce and avoid import taxes by declaring prices low, declaring the contents as "electronic accessories" or other items and shipping in simple packaging.

From jont at

6/10/2014 10:00 AM

From Paulo G at

7/31/2014 2:49 PM

Please, how do I go buy battery for model dg-210 smartphone, I'm in Brazil.
Thanks, I'm waiting!
Doogee Mobile
Thank you for your mail.
I regret that we have no dealer or re-seller in Brazil ,but we support worldwide shipping ,you can purchase this directly from our online shop.

From Erika Castillo at

8/28/2014 4:12 PM

Buenas tardes, la presente es para consultar si el dispositivo funciona con las empresas de telefonía Colombiana (Sur América)
Doogee DG210
gracias por la atención prestada
Erika Castillo

Doogee Mobile
Thank you for your mail.
Doogee DG210 can work in Colombian.

From mohsen khanlarpoor at

9/10/2014 1:39 PM

Hi, I am contacting from Iran , I liked your products , whether it is possible for me some of your products , for example, to send me ?
For example, handset and handset doogee dageer dg550 doogee dg800
Thank you for your
Doogee Mobile
Thank you for your mail.
We support the wholesale, please tell the model and quantity you need.

From Bovary Exantus at

10/6/2014 1:11 PM

Where do I buy, how can I buy, why is everything is out of stock?
Doogee Mobile
Thank you for your mail.
Our website is being upgraded, can not buy, we will give you recommend a trustworthy website,
You can buy here: http://www.pompmall.com/doogee-mobile-phone.html

From Raix at

10/20/2014 7:28 AM

Welcome

Phone about 6 months old. I used wifi connection for a moment. Suddenly the image froze and none of the button does not work. I wanted to take back the battery to restart it. Before I take off the back cover, turn off the phone itself already. After this incident are not able to launch the phone. I kept the phone without the battery, loaded the 6 hours of battery, but nothing. Does the phone is now finally dead?

Thank you
Doogee Mobile
Thank you for your mail.
Please download the firmware update.

From badewa tunde at

11/12/2014 3:08 PM

Please I find your products and price very intresting, and I would like to be an affilate maketer to your phone - like commision per sale made trough a given link

Doogee Mobile
Thank you for your mail.
Please tell us the phone model and number you need, we will send you a quote.

From sergigue at

12/14/2014 7:56 AM

From Jasmin at

1/29/2015 1:55 PM

From Paulo Geraldo at

2/24/2015 11:41 AM

From ivan at

3/22/2015 8:53 PM

From chris at

4/14/2015 10:37 AM

doogee f1 mini turbo,phone dead android and saying no command.can anybody help please.
Doogee Mobile
Thank you for your mail.
Please download the firmware update: http://www.doogeemobile.com/download

From chris at

4/16/2015 10:29 PM

I ask the question about the f1 turbo mini,I down loaded the firmwear onto pc but how do I get it onto phone when it is not working due to it being in no command mode.dont know how to get it out of this mode.
Doogee Mobile
Thank you for your mail.
We will edit the tutorial posted on the website.

From Ana Carolina at

6/3/2015 5:47 PM

Hello,

Earlier I asked a question where to buy lcd mobile screen.
You responded with a link at AliExpress.
I live in Brazil and the seller do not send the piece to Brazil.
What can i do?
Doogee Mobile
Thank you for your mail.
We are very regreted that we don't provide the parts sell at present, you can look at the Ebay.
Ask Your Own Question