Description
Details
Doogee DG130 has a MTK6572W, Cortex A7 dual core, 1.3GHz processor which makes the phone work very fast. It supports Android 4.2 operating system, supports an external TF card up to 32GB. 4.3 inch screen allows the user to view videos and play games at a comfortable size as well as clearly due to this phone's 800 x 480 pixels display resolution. With the high end dual cameras, front 1.3 MP, black 5.0 MP with flashlight auto focus, you can record the happy moment easily. It is absolutely a good choice to buy one.
Perfect design, Touch experience
The perfect design experience of Moon DG130, Simple and smooth body lines, concise but not simple production process, which is the right way to bring shape and feel, Embodies the perfect balance of art and design bloom.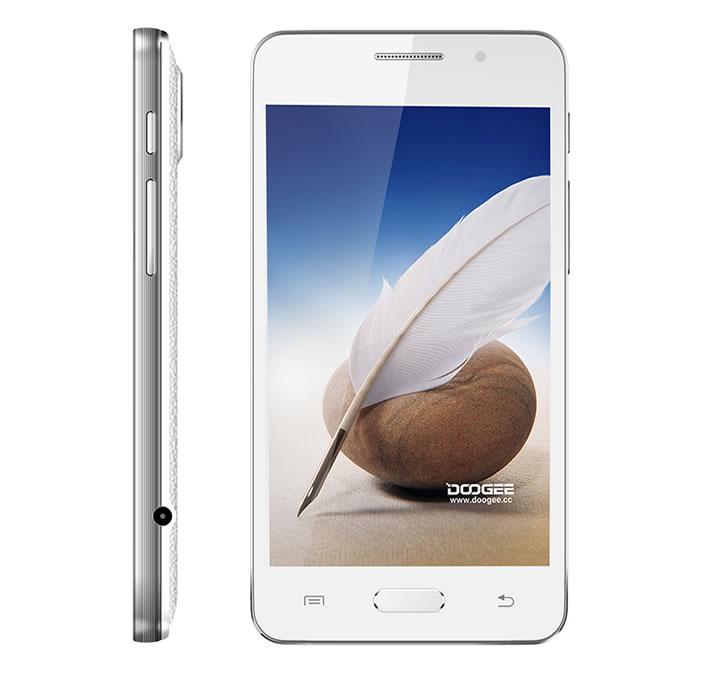 Produce precessing carefully, Extremely firm
The unique 360' all-round fo Moon DG 130 adopt high quality alloy metal design, which reinforce the body with super metallic, more stylish design, more comfortable grip and more sense of technology.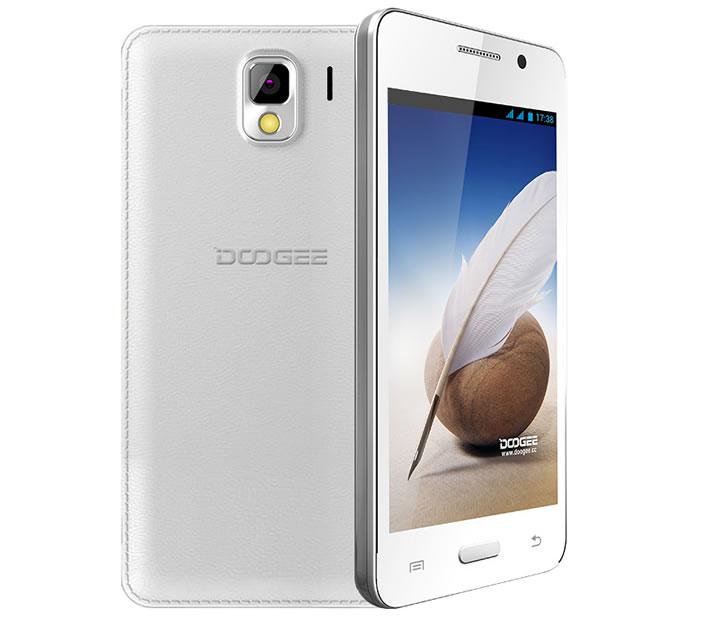 IPS wide viewing angle, Touch without watermarks
Using IPS wide viewing angle screen. No matter from which angle you can enjoy the ideal image of high-definition, bright colors, saturated. Due to the unique level IPS screen molecular structure, which let it no watermarks, shadow and flickering when you touch, it's very stable.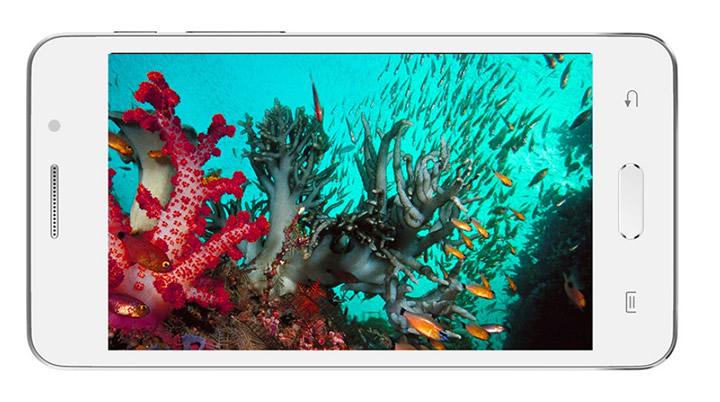 Dual card dual standby, Work and life with freedom of choice
Enjoy Work and life with fredom of choice. Moon DG130 with dual sim dual standby function, you won't miss important calls, Support WCDMA and GSM networks, which can meet your needs. Dual SIM allows you from some private life, mutual non-interference in commercial work. to achieve the perfect balance of life and work.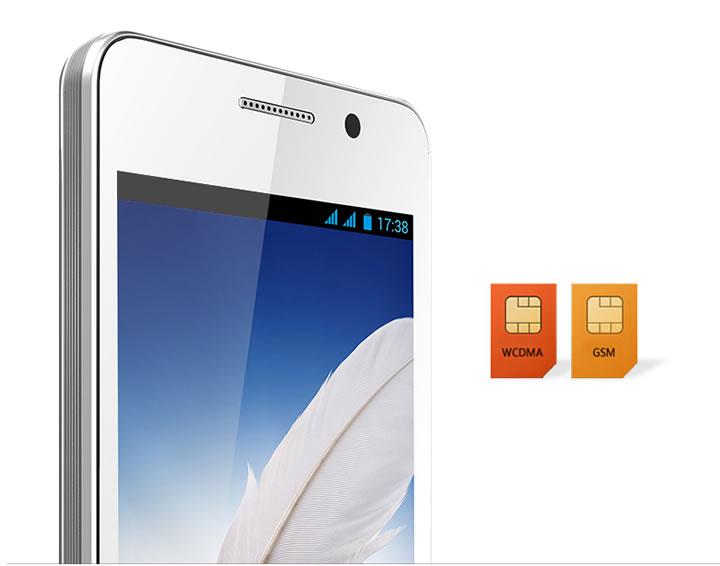 Android 4.2 intelligent operating system
Equipped with Android 4.2 smart correspondent, vast application download, you can experience the endless fun playing with the application. The new processing architecture, which make DG130 exerting a strong performance.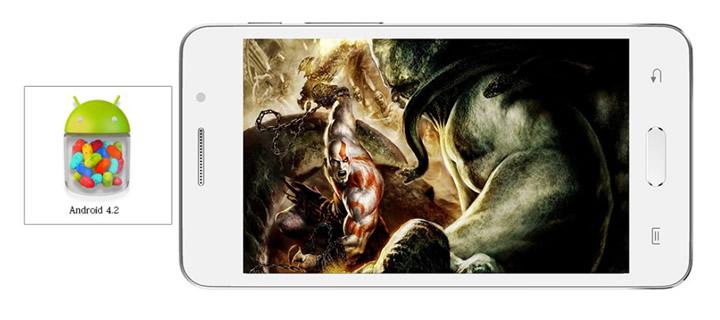 Doogee DG130 Smartphone Highlight:
- 4.3 inch screen, 800 x 480 pixel display
- MTK6572W, Cortex A7 dual core, 1.3GHz
- 512MB RAM, 4GB ROM
- 5.0MP rear camera, 1.3MP front camera
- Android 4.2

Doogee DG130 Smartphone Basic Information
Model: DOOGEE MOON DG130
Band: 2G: GSM 850/900/1800/1900MHz
         3G: WCDMA 850/2100MHz
Sim Card Slot: Dual SIM Card Dual Standby
Service Provide: Unlocked
Color: White
Operation System: Android 4.2
CPU: MTK6572W, Cortex A7 dual core, 1.3GHz
RAM: 512MB
ROM: 4GB
Display Size: 4.3 Inch
Type: IPS, capacitive touch screen
Resolution: 800 x 480 pixels
External memory: Support TF card up to 32GB extended
Dual Cameras, 1.3MP front camera, 5.0MP back camera with flashlight, up to 2560 x 1920 pixels resolution

Doogee DG130 Mobile Phone Basic Function
Ringtones Type: Polyphonic/MP3
Audio File Format: MP3/WAV/AMR/AWB
Video File Format: 3GP/MPEG4
Image File Format: JPEG/BMP/GIF/PNG/GIF
E-book Format: TXT/CHM/DOC/HTML
FM Radio: Yes
Data transfer: USB/Bluetooth
Mobile internet: WAP/WIFI
Phonebook: 500
Message: SMS/MMS
Input: Handwrite/Keypad
WIFI: Yes, 802.11 b/g/n
Bluetooth: Bluetooth 2.1
Gravity Sensor: Yes
TV: No
JAVA: No
Multi-Touch: Yes, 5 point touch
GPS: Yes, built in, also support A-GPS With EPO assistance to speed up postioning
Language: English, Malaysia, German, Spanish, French, Indonesian, Italian, Portuguese, Vietnamese, Turkish, Russian, Arabic, Persian, Thai, Burmese, Tradition/simplified Chinese
Other Feature: 3G, WiFi, GPS, FM, Bluetooth, Ebook, Email, Messaging, Wallpapers,Calendar, Calculator, Clock, Camera, Tethering & portable hotspot, etc

Doogee DG130 Mobile Phone size: 131x 67.6 x 9.3 mm/5.16 x 2.66 x 0.37 inch
Doogee DG130 Mobile Phone weight: 126g

Doogee DG130 Mobile Phone Accessories:
1 x 1250mAh Battery
1 x Earphone
1 x USB Cable
1 x Charger
1 x User Manual
Reviews
Tags
Questions on Doogee DG130 Smartphone Android 4.2 Card Dual 4.3 Inch 5MP camera
Sort by

From Joop Spiljard at

5/2/2014 7:48 AM

From ekolistmen at

5/6/2014 1:34 AM

From alex at

5/19/2014 11:30 AM

This phone has A-GPS? I'm Portuguese, can by phone with text and menus in Portuguese? I live in Portugal, if the phone fails, I have to send it to China? And how long have Warranty?
Thank you.
Doogee Mobile
Thank you for your mail.
All are under one year warranty. (Excluding the accessories). If any problems ,pls contact our after-sale customers service any time .

From Orsi at

7/24/2014 1:14 PM

From george at

7/24/2014 4:27 PM

From Nick at

8/6/2014 2:24 AM

From Paulo Nogueira at

8/18/2014 7:18 AM

From Oblomir at

9/4/2014 12:10 PM

From Roman at

9/13/2014 4:25 PM

From André Paiva at

9/20/2014 10:39 AM

For some reason a can't activate the GPS signal because there's no "button" to push.
I go to the Location menu and I only have two options, permission to give display my location on several app's and to access my location via web.

What can I do to fix this.

Best regards from Portugal
Doogee Mobile
Thank you for your mail.
Doogee DG130 phone support A-GPS.

From Kyle Heke at

9/21/2014 8:28 PM

Can you please email me when these come back into stock, and could you please supply a price, as the website is not currently displaying prices on your products.

Thank you
Doogee Mobile
Thank you for your mail.
I'm sorry, Doogee DG130 phone has been discontinued.

From Reit at

9/22/2014 7:20 AM

Where can I find the official ROM of this model because the blog is not http://www.doogeemobile.com/blog/, or that fits this model Thanks for your prompt reply, Greetings
Doogee Mobile
Thank you for your mail.
Doogee officials have not released the DG130 firmware.

From Joel at

10/10/2014 7:47 AM

From Gil at

10/10/2014 2:25 PM

From duje at

10/19/2014 1:45 PM

From Charlie at

10/19/2014 2:20 PM

From Tamas at

11/22/2014 11:43 PM

A-GPS is not !! Access location without GPS satellites do not have off-on switch! choice is important to me on the phone with A-GPS! Doogee Officials have not released the DG130 firmware. Often completely white screen phone, not seen nothing! A-GPS firmware patch ?
Doogee Mobile
Thank you for your mail.
Click Settings - location information - information switch open position - will pop up a window of consent record location information - Click consent. When entering into the positioning web maps or software will pop up a "know your location information" window. Click to share location information.

From nix at

11/25/2014 12:34 PM

From Hery at

12/14/2014 1:32 PM

My DG130 doesn't recognize the GPS. What I should do?
Doogee Mobile
Thank you for your mail.
Click Settings - location information - information switch open position - will pop up a window of consent record location information - Click consent. When entering into the positioning web maps or software will pop up a "know your location information" window. Click to share location information.

From Tony Tracy at

1/28/2015 1:20 AM

From Tebogo at

2/2/2015 12:25 AM

From Orestes Santos at

2/7/2015 10:57 AM

A câmera do meu DG310 parou de funcionar "nao é possivel conectar-se a câmera". Existe algum Procedimento para resolver o problema?
Doogee Mobile
Thank you for your mail.
Mobile phone unable to connect the camera may be caused by mobile phone system, you can go to system camera settings - Application - all, remove the cache and the data, then open the camera try can not normal, if not work, you can backup data restore factory settings. If you restore the factory settings remains unable to connect the camera, may you mobile phone camera have problems.

From Orestes Santos at

2/8/2015 6:11 AM

Meu DG310 não está funcionando a câmera."Não é possível conectar a câmera". Qual o procedimento?
Doogee Mobile
Thank you for your mail.
Mobile phone unable to connect the camera may be caused by mobile phone system, you can go to system camera settings - Application - all, remove the cache and the data, then open the camera try can not normal, if not work, you can backup data restore factory settings. If you restore the factory settings remains unable to connect the camera, may you mobile phone camera have problems.

From Ajaykishore at

4/29/2015 11:48 AM

From nick at

5/17/2015 7:55 AM

From RAYMOND SCHEMBRI at

6/2/2015 1:32 AM

From matija at

7/1/2015 3:32 AM

my doogee moon dg130 dont want to power on after i recharged him...
he jus shut down and when i try to activate him he just go to logo and stop there and can go further...
can u pls help me?
Doogee Mobile
Thank you for your mail.
Remove the battery and then boot, or download the firmware update.

From Matija Slatki at

7/1/2015 3:48 AM

From Schwan Laci at

8/1/2015 8:02 AM
Ask Your Own Question