Description
Details
Doogee DG310 Smartphone use MTK6582 Quad Core 1.3GHz, 1G RAM + 8G ROM with 5 inch 480*854 screen, Android 4.4 OS, promises quite a fast operation speed is quite amazing and impressive. 1.3MP front camera for convenient self-capturing, 5.0MP back camera for you to record every single moment clearly; all available to make this phone the most valuable choice Doogee DG310.
Gesture function within my drawing
Voyager2 DG310 configuration black screen gestures, not only it equipped with a cool activation, but also convenience to one-hand operation. More support for gestures custom startup applications, faster and more convenient. For example, it can hand-painted "O" to open the camera.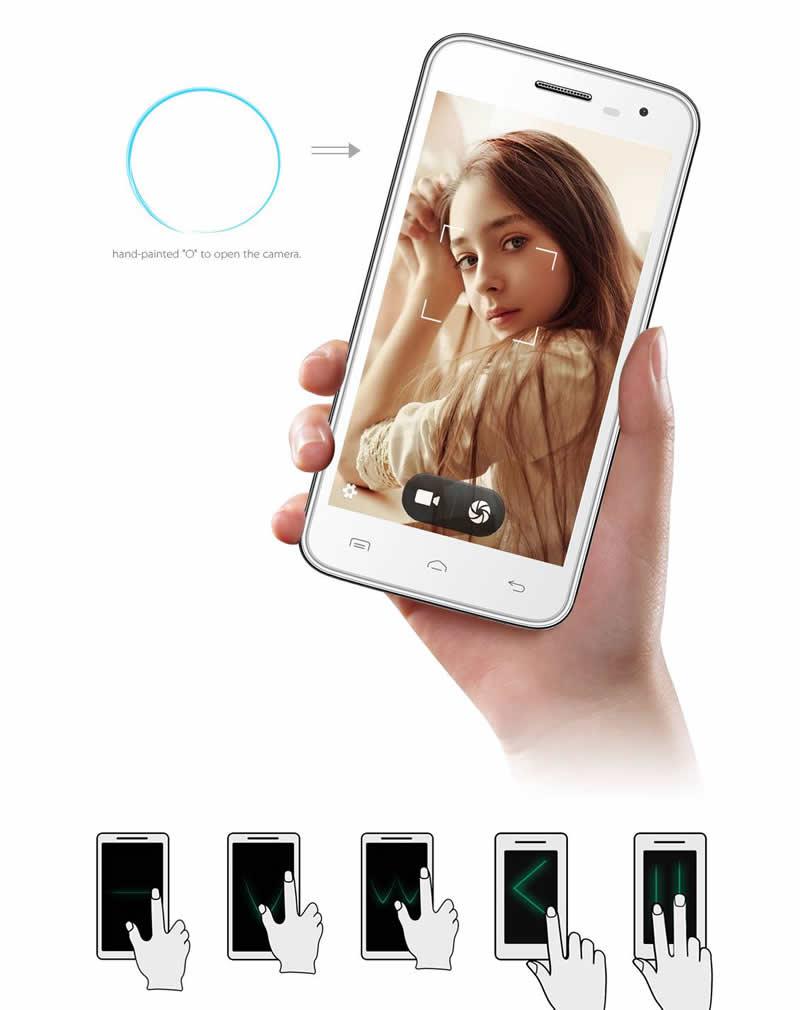 LG super thin and high transparent display screen
Voyager2 DG310 adopt high transparent display screen of LG, the most top class with 0.55mm, with three times the scratch resistance. Durable, wear-resistant, crashworthiness, it will avoid to scratch.

Direct call by body feeling
Voyager2 DG310 can feel you think smartly, if you are in the interface of contact details, information on the details can call records details, just simply hold the phone to the ear, Voyager2 DG310 will be sensitive to you, it will immediately and automatically dial the number.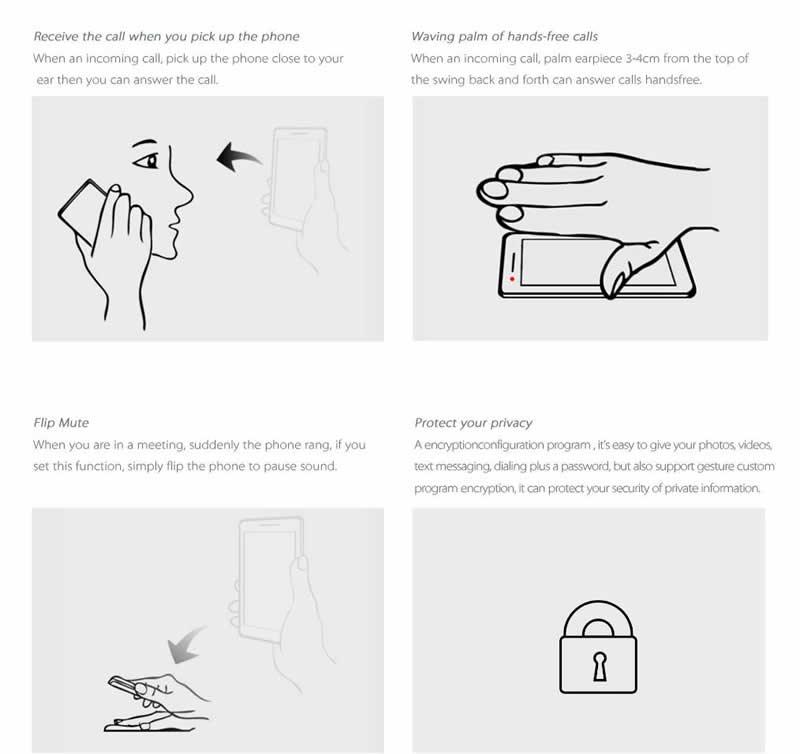 Double light
Voyager2 DG310 with dual flash, one is white light, the other is warm light, combine the two for obtaining the correct balance of color, at the same time, the software will automatically give the fill light according to the situation with the changes in temperature light. it can eliminate shadows with a small portion of the image, so that each part of the image are more clear, double flash shooting better at night.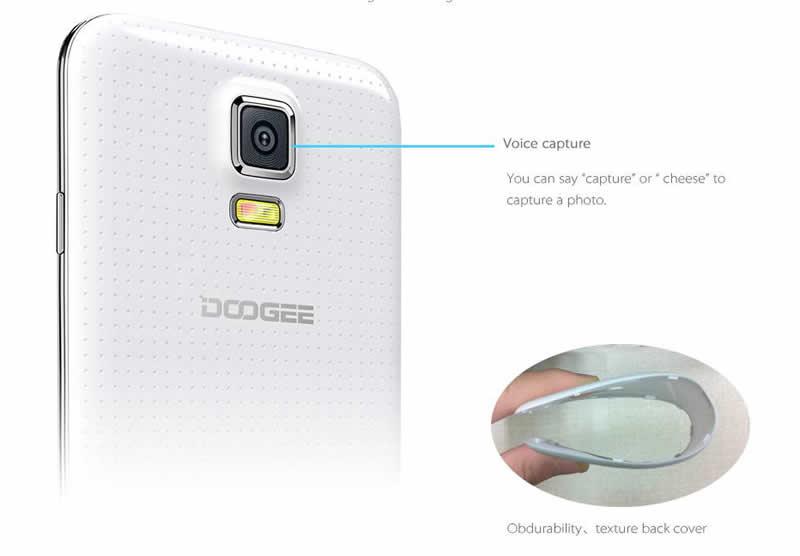 Android 4.4 KitKat
More accurate voice search, send text messages, access to locate even you can play a musical. The new icon, lock screen, power on animation and color scheme to strengthen the active voice it can realize cross-platform text, voice chat, and can transmit pictures, videos and other files. There are more surpriser for the latest system.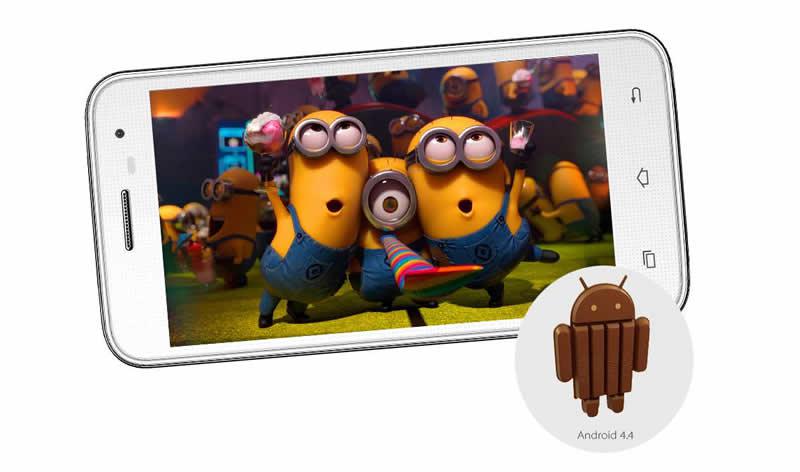 Doogee DG310 Smartphone Basic Parameter Information
Model: DOOGEE Voyager2 DG310
Band: 2G: GSM 850/900/1800/1900MHz
         3G: WCDMA 850/1900/2100MHz
Dual SIM Card Dual Standby
Service Provide: Unlocked
OS: Android 4.4
CPU: MTK6582 Quad Core 1.3GHz
ROM: 8GB
RAM: 1GB
Display Size: 5 Inch Screen
Type: IPS, capacitive touch screen
Resolution: 480*854 pixels
Screen Color: 16000K Colors
Card Extend: Support TF card up to 32GB extended
Camera/Picture Resolution: Dual Cameras, front camera 1.3MP; back camera 5.0MP with LED flash

Doogee DG310 Mobile Phone Basic Function
Data transfer: USB/Bluetooth
Mobile internet: WAP/WIFI
Message: SMS/MMS
GPS: Yes, with A-GPS support
USB: Yes, USB 2.0
WIFI: Yes
Bluetooth: Yes
OTG: Yes
Light sensor: Yes
G-sensor: Yes
P-sensor: Yes
Gesture sensing: Yes
Audio file formats: MP3, AAC, WAV
Video file formats: MP4, 3GP, AVI, FLV
Image File Format: JPEG
Earphone Port: 3.5mm
Gravity Sensor: Yes
Multi-Touch: Yes
Standby Time: About 1~2 days
Language: English, Russian, Arabic, Czech, Danish, Dutch, Finish, French, German, Italian, Greek, Hebrew, Hungarian, Israel, Hindi, Indonesian, Malay, Norwegian, Persian, Polish, Portuguese, Spanish, Romanian, Bulgarian, Slovak, Swedish, Thai, Turkish, Ukrainian, Vietnamese, Filipino, Simplified Chinese

Doogee DG310 Mobile Phone Accessories:
1 x 2000mAh Battery
1 x USB Data Cable
1 x Charger
1 x User Manual

Doogee DG310 Mobile Phone Size: 146.6 x 73 x 7.9mm
Doogee DG310 Mobile Phone Weight: 130g
Doogee DG310 Price Comparison
Recommended Shops:

Pompmall.com: $89.99
Reviews
Good Phone sometimes does weird things has a mind of its own

Review by

Martin 007

Does weird things has a mind of its own (Posted on 4/30/2015)

NEED FULL MANUAL

Review by

DJ

WHERE CAN I GET/DOWNLOAD FULL INFO MANUAL? (Posted on 3/7/2015)

great

Review by

nahshon

great (Posted on 3/2/2015)

Very good

Review by

Barry

My first smartphone... guess I'm behind the times, but had to go when my old, reliable flipfone finally. Has lots of nice functions, better than my wife's older Galaxy 2. Nice recognition system to answer the phone when you pull it to your face. But functions I miss from my old phone: Can not transfer files via USB to either my old XP nor my wife's new W8 PC. Shows empty drives.. can't see the installed microSD card. This is one of my main beefs.

I'll keep it for a while.. even with the frustrations.. but we'll see how it goes.
(Posted on 3/1/2015)

GOOD PHONE !!!

Review by

THE SHIT

Isn't too bad as a medium cost phone and has a lot of G (8G) and has good internet,is too fast,has good camera.ext.For my opinion is a very good phone. (Posted on 2/23/2015)

OTTIMO CELLULARE

Review by

FABIAN

In relazione a qualità/prezzo e considerando che si ha un 5pollici, kitkat, dualsim ed un processore 4core... Nulla di meglio. (Posted on 2/21/2015)

Rooting

Review by

EAgi

Is rooting riskless (Posted on 1/25/2015)

4

Review by

Alex

Отличная качественная сборка, хороший экран. Обновления по воздуху. Очень сладкая цена за такую машинку.
Единственный минус, это слабый аккумулятор. Для такого экрана он реально маловат, хватает на сутки. Хотелось бы под 3000 мач иначе активное использование крайне мало. (Posted on 1/16/2015)

Brilliant!

Review by

hippydan

I read some reviews about iffy updates and internet speeds and more and i wasn't positive if these issues would arise in the UK or not so i was a bit wary, no need.
Giffgaff UK sim straight in the phone no messing with any setups or providers or anything this phone worked as soon as i put the sim card in. 1 update ,no issues.
Ookla speedtest 25.91 download and 15.59 upload speeds.
Antutu scored 19598.
For the price this phone is amazing. (Posted on 1/12/2015)

good phone for a good price

Review by

Mary

really nice phone.
looks beautifull and works great.
earphones stopped working after 3 weeks though. (Posted on 1/10/2015)

Nice Phone

Review by

Stan

I love this phone. It is well built, feels solid. Of course, there are some small issues. But how much did I pay? One cannot get everything super for this price. One problem should be addressed. It is the English manual. It should be better. Otherwise, I am completely satisfied. Today, I received new system update. Thanks Doogee. (Posted on 1/7/2015)

good value

Review by

phil

first this is a low cost smartphone.screen is better than you would expect,not hd but looks fine,phone is fast enough, quick on the web ,plays dead trigger game fine ,camera ,s ok. i watch bt sport fine .runs fine.... drawback... if app doese not start i have to reboot .then ok .battery life ok chromecast worked with my tv . not as smooth as my other phone but x 3 price. for the money i,m pleased with it
screen looks much better than low res suggests (Posted on 12/22/2014)

What a great phone

Review by

patvr

This is just a great phone to have. It's quick, clear, has plenty of memory and space. For the price I don't think there is a better phone on the market. (Posted on 12/16/2014)

Great Value for that price even if it has it flaws

Review by

C0br4

I like the phone for its price. Only things that I really dislike is that even with turned off Gestures, it still wakes up in my pocket due to random touches registered and the really cheap not so precise Touch digitizer. (Posted on 12/12/2014)

Good Phone

Review by

Mitch

Good overall smartphone and a great value for 90 dollars. The only weak point I have found is the camera is just good. (Posted on 12/12/2014)

DG310

Review by

IRGR_HD

Hi first mi leguaje is spanish ok ok vale en primero y principal el telefono se ve genial en especial para doogee una gran compania muy grande vale dentro de unas semanas lo voy a tener agradecido con doogee y sus trabajadores que hacen que la compania funcione claro un buen telefono para ser de gama media y funciona como una de gama alta un gran saludo desde venezuela toda la familia venezolana los saluda y que sigan asi oh right good night thanks so much for all and good job (Posted on 12/9/2014)

Awesome bang for the buck.

Review by

Ip Deep

Loving this phone, it worths every cent. Running HD movies smoothly (MX Player), using XBMC with Icefilms with no problems at all, speaker has decent sound quality, it has nice features with gestures/motions. Camera quality is decent, recording videos in 1280*720 also looking great. Recommended for people on budget, don't look further. Almost forgot it runs games too, smoothly on highest settings (GT Racing 2, Dead Trigger 2). It has even OTG and OTA for future updates. Love you Doogee. (Posted on 12/3/2014)

Awesome phone

Review by

Gerandi

I bought this phone and it is very cool. Low cost phone with decent specs and with android 4 .2.2 Kitkat (Posted on 11/28/2014)

Special

Review by

kennyC2

this is one of the best phones available in the world today, cute features, stree free gestures, amazing audio, clear visual display, and etc... i recommend it for everyone. (Posted on 11/24/2014)

Really worth the price

Review by

Diovis

I've been using my new Doogee Voyager2 DG310 for a couple of days now and I can tell you it is awesome, it really is. I mean, of course there are better phones out there, but this one is really great for the price. The battery is good enough for a day of intensive use, the 5 inch screen is really good(the resolution not that good), my videos look amazing, even HD videos. My only critic is for the cameras which are not so good(I don't even think the frontal camera is 5MP), but in my particular case, that's not a problem as I don't think I'll use them so often. Very easy to root with this tutorial(http://www.htcmania.com/showthread.php?t=766338). I'm giving it a 5 start rate. (Posted on 11/8/2014)

Good for the price. Bluetooth issues.

Review by

Fastidle

Feature rich affordable phone but can't listen to music via Bluetooth. Bluetooth headsets work fine for placing or taking calls but listening to music over Bluetooth is so very faint even when volume of phone and headset are at max. Tried multiple Bluetooth headset brands and Bluetooth speakers with same result. Music volume is fine with corded headset. Firmware DOOGEE-DG310-ANDROID-4.4-20140915. hopefully Doogee can resolve with a firmware update. (Posted on 11/1/2014)

Great value. Would recommend if you do not expect it to be as good as an iphone. after all it is $90 bucks not $699.

Review by

Alan

This phone meets my needs and is a great value. It has it quirks but nothing that really bothers me. Touch screen sometimes is unresponsive especially when trying to press and hold to select something. For example, when you want to delete or uninstall an app. I had a problem with battery life but it turned out to be related to a memory card I installed. It must of had a corrupt file on it. After replacing the card the battery life is fine. Camera is OK not great and useless in low light. Perfectly acceptable for my needs. Be certain, this IS NOT AN iPhone. But for $90 bucks, I am very happy with it. I have been looking for instructions to root it but have not found instructions detailed enough for me to try it. (Towelroot does not work on this phone. At least not for me.) If anyone has detailed instructions please post here. (Posted on 10/26/2014)

device is full

Review by

kerryswyer

Hi I have a doogee voyager 2 with a 32GB memory card in and I can't seem to transfer my apps to my memory card now I can't play my favourite game as its saying my device is full (Posted on 10/23/2014)

kj

Review by

mory20

very good phone...please release new update rom in for download. (Posted on 10/22/2014)

great

Review by

Giovanni

I have bought this phone to my son....very great and smart....I have a S4 for me and comparing it to the Voyager 2 I think this last one wins for appeal and price.
5 stars (Posted on 10/20/2014)

loved it !!

Review by

boss likes bitches

love this cel phone...:) (Posted on 9/30/2014)

disappeared widget

Review by

Avi

How to restore the original widgets which have disappeared from the screen after reboot?
(Posted on 9/17/2014)
Write Your Own Review
Tags
Questions on Doogee DG310 MTK6582 Quad Core Android 4.4 1GB 8GB SmartPhone 5 inch 5MP camera Black
Sort by

From Leslie H. Tindale at

7/10/2014 12:19 PM

I am intrigued why you haven't given this phone a higher resolution? say similar to the DG Pixel 350 which I have. I'm thinking of getting the DG 2014 but the DG Voyager 310 would have interested me more if the resolution was better.
Doogee Mobile
Thank you for your mail.

From Marco Martinez at

7/16/2014 4:57 PM

From jonatasscheffer at

7/17/2014 9:19 AM

DG310 moro no brasil ele é compátivel com todas as nossas operadoras, qual o prazo de entrega? tem tributos a mais além do valor?.

Doogee Mobile
Thank you for your mail.
Our price is FOB price,we will print your package value under 50USD, but we are not sure about your local customs.

From Juan at

7/18/2014 6:51 AM

From Octavio Octo at

7/18/2014 12:42 PM

From Marco Martinez at

7/19/2014 3:19 AM

From Marco Martinez at

7/19/2014 3:23 AM

From Ben Reigen at

7/19/2014 10:04 AM

From Jorge Armando at

7/19/2014 4:30 PM

Este equipo la pantalla cuenta con gorilla glass?. Estoy interesado en comprarlo en la preventa que tiene dealextreme. Agradezco la informacion que puedan brindarme. Gracias Y cuanto es la densidad de pixeles de la pantalla?
Doogee Mobile
Thank you for your mail.
Doogee DG310 does not have gorilla glass,
We will email you at the first time when the dg310 smartphone be available.

Updated: Doogee DG310 phone is in stock, here: http://www.doogeemobile.com/doogee-dg310-android-4-4-mtk6582-quad-core-1gb-8gb-smartphone-5-inch.html

From ErezG at

7/21/2014 12:04 AM

From Jorge Armando at

7/21/2014 5:37 AM

From dinko at

7/21/2014 11:00 AM

From Gustavo Santana Domingues at

7/22/2014 1:29 PM

From Adrian at

7/23/2014 5:07 PM

From miki at

7/24/2014 6:46 AM

From Jorge Armando at

7/24/2014 4:26 PM

¿La bateria es de 2200 o 2000 mAh? y quiero saber si la pantalla es multitouch a 5 puntos. Hago estas preguntas porque en dealextreme decia que la bateria era de 2000 mAh y de igual forma en el facebook oficial de su pagina vi que decia que la pantalla era multitouch a 2 puntos. Quiero aclarar esto porque hice una compra en preventa por la pagina de dealextreme y no quiero quedar desilucionado con el equipo, ya que de parecer bueno lo recomendare a mis amigos en futuras compras y hacer mi respectivo video en youtube para dar mis impresiones y asi mas compradores se interesen. Gracias
Doogee Mobile
Thank you for your mail.
Doogee DG310 phone battery is 2200mAh.

From Ricardo Teodoro at

7/25/2014 1:36 PM

Hi, I'm from Brazil, the delivery is guaranteed in my country, this cellphone works perfectly in Brazil. How much time do I receive the cellphone?
Thanks!
Doogee Mobile
Thank you for your mail.
We will email you at the first time when the Doogee DG310 smartphone be available,
The shipping cost to Brazil is $11.0 via Singapore post with the tracking number 10-25 working days around to arrive

Updated: Doogee DG310 phone is in stock, here: http://www.doogeemobile.com/doogee-dg310-android-4-4-mtk6582-quad-core-1gb-8gb-smartphone-5-inch.html at you.

From Leslie H. Tindale at

7/26/2014 1:27 AM

Have just placed pre-order for two of the DG 310 and have asked for one each of the two colours presently advertised. When so you think that the first phones will be available and will there be any change to the specs?
Doogee Mobile
Thank you for your mail.
Doogee DG310 specifications may be some changes.

From Hernan Neuman at

7/26/2014 9:33 PM

From G at

7/27/2014 10:13 AM

1. What about Warranty? If something goes wrong then what?
2. Shipping costs to Romania and maybe other taxes if they are?
Doogee Mobile
Thank you for your mail.
We will have fully test before we send, all our Android Device come with 12 months warranty, If any problems ,please contact our after-sale customers service any time,
We are not sure about your local customs, but we can help you reduce and avoid import taxes by declaring prices low, declaring the contents as "electronic accessories" or other items and shipping in simple packaging.

From David at

7/27/2014 9:13 PM

From Talis at

7/27/2014 9:32 PM

Hello Doogee! This phone have vibration alert? They have support to Wi-fi Hotspot ? Have an specific back cover and screen protector to buy? Warranty time? tnks!
Doogee Mobile
Thank you for your mail.
When we got the DG310 phone, we will edit the specification again,
We will have fully test before we send, all our Android Device come with 12 months warranty, If any problems ,please contact our after-sale customers service any time .

From Ruben at

7/30/2014 4:53 AM

From carlos eduardo at

7/30/2014 10:09 AM

From Giorgos at

7/30/2014 2:20 PM

From Yoly at

8/3/2014 1:44 PM

Hi,
What is DG310 Standby time?
OTG, NFC supported?
Shipping cost & time to Hungary?
Thanks,
Doogee Mobile
Thank you for your mail.
Doogee DG310 phone Standby Time: About 1~2 days,
Doogee DG310 support OTG.
The shipping cost to Hungary is $11.0 via Singapore post with the tracking number 10-25 working days around to arrive at you.

From Sebastian at

8/4/2014 10:02 AM

From chatchai at

8/5/2014 8:41 AM

From Israel at

8/6/2014 3:16 PM

From miroslaw at

8/14/2014 8:51 AM

From Ogawa at

8/18/2014 10:34 PM

Hello. I'm from Brazil and the Brazilian telecommunications regulator, ANATEL, recently reported that imported phones could have run on GSM / WCDMA networks blocked. My question is the following: the DG 310 has certifications like FCC, RoHS? It is CE certified? You could send via email copies of the certificates? Already, my sincere thanks!
PS: Keep up with the manufacturing quality and you knock competitors!
Doogee Mobile
Thank you for your mail.
All our items come with CE mark and ROHS .

From talis at

8/19/2014 10:39 AM

From john at

8/20/2014 8:38 PM

received my DG310 today. I live in Canada but Doogee sent me a EU charger. so, how can i charge my DG310 now. please re-send me Canada charger type so i can charge my DG310. The phone is good but the charger type EU type so I can never use the charger to charge my DG310. Thanks in advance.
Doogee Mobile
Thank you for your mail.
Could you kindly tell us your order number?

From dinko petrinic at

8/21/2014 6:57 AM

From Johan at

8/21/2014 1:19 PM

Great phone, good build and fast with Kitkat.
But Doogee :
don't forget the aftersales !
Produce covers, flipcases, (extended) batteries etctec !
This product is a big hit with right accessories !!
Keep up the good work :)
Doogee Mobile
Thank you for your mail.
Thanks for your advice.

From JS at

8/22/2014 11:36 AM

firmware flash file?

I received my DG310 and it's a nice phone, but trying to use your recommended vroot tool to root it, I have ended up with some broken system applications that I cannot remove (the root doesn't work either).

Any chance it's possible to get a flash image so I can reinitialize the phone back to original state?

Thanks,
J

Doogee Mobile
Thank you for your mail.
When we got the Doogee DG310 latest firmware, we will release on our website.

From wafenn at

8/23/2014 2:45 AM

From Iulian at

8/23/2014 3:31 AM

From éva Timorée at

8/26/2014 12:40 AM

From Mirco at

8/27/2014 12:24 AM

Received yesterday the DG 310 white; looks good.
Just a couple of questions:
1) the box contains just a quick guide; where can I find a FULL USER MANUAL for this phone?
2) I've noticed that the three bottom sensitive buttons are not back illuminated, is it possible?
Thanks in advance for your answer.

Doogee Mobile
Thank you for your mail.
Doogee DG310 phone accessories has English User Manual,
No backlight at the bottom button.

From Mirco at

8/27/2014 5:50 AM

Thanks for your quick answer, but:
1) I have received the phone yesterday, and I can assure that the box contained just a very short multilanguage manual with just a few Quick Guide pages. Don't you have the full user manual .pdf file on-line?
2) That's a pity! I did not know that bottom buttons were not backlit and it sound really strange DOOGEE wants to save something on this small particular.

Anyway, thanks in adv for the answer.
Kind Regards
Doogee Mobile
Thank you for your mail.
Doogee official did not release the PDF user manual.

From Mario at

8/28/2014 5:38 AM

From Cristian Pose at

8/28/2014 10:56 AM

Hi! You said "Doogee DG310 phone support ROOT". What does it mean? Do I have root access without running any app or installing anything? Can I directly install SuperUser or SuperSU from GPlay and it will manage SU requests from other apps? Sorry to make so many questions, but I'm about to buy this phone and I'd like to have this information beforehand. Regards, Cristian.
Doogee Mobile
Thank you for your mail.
We do not provide ROOT phone, but you can ROOT Doogee DG310 phone, If you ROOT phone will lose our 12 month warranty, So we do not advocate ROOT phone.

From Xavier at

8/29/2014 3:13 AM

It's a pitty that dg310 doesn't support 900Mhz on WCDMA. This cause the phone to have very bad date connection in places outside city. Comparing with other phones (samsung, sony ericson), on a places they have an acceptable speed data rate with the same SIM card, dg310 offers a very poor speed rate. Is there any way via firmware update to include this 900Mhz on WCDMA.

Again, please, think on the actual and future customers to make us happy with the phone.
Doogee Mobile
Thank you for your mail.
Mobile phone frequency has been fixed, can not be changed.

From Fray at

8/30/2014 7:27 AM

From CHARMAINE AZOBU at

8/31/2014 12:20 PM

I BOUGHT THE DG 310 I ONLY CAN INSERT ONE STANDARD SIM CARD AND THE SECOND SIM CARD SEEMS TO ACCEPT A MINI SIM CARD.

PSE IS THIS MOBILE DESIGNED FOR 2 STANDARD SIM CARDS OR 1 STANDARD AND 1 MINI.

THANKS
Doogee Mobile
Thank you for your mail.
Doogee DG310 phone support one micro-sim card and one standard SIM card.

From Paul at

9/1/2014 4:10 AM

I just bought this phone and installed some applications but they do not show up on any of the screens. I can only access them through the Settings, Applications.
Doogee Mobile
Thank you for your mail.
You can long press the phone's desktop, and then add the widget, select the shortcut you want to add an application on it.

From José Aracil at

9/1/2014 1:45 PM

hello ... I bought this phone on the page BANGOOD. If I had known it I buy you .I have a serious problem since I do not have no coverage (I do not receive calls nor can I send or 3g or anything) I have sent an email to bangood and have received no answer ....
I really like your mobile ... is an authentic beauty ... but I have no gsm or 3g ......

Just to let you know the serious problem that I have ......

I am from Alicante (Spain) ...... I hope know understand, I ask forgiveness, though I have not posted ....

Thank you so much and sorry for my bad English .... I'm using a translator
Doogee Mobile
Thank you for your mail.
Do you have Flash? If no, please change one another SIM card, If still this problem, you restore the factory settings.

From Phil at

9/2/2014 8:12 AM

From Phil at

9/2/2014 1:00 PM
Ask Your Own Question