Description
Details
DOOGEE DG150 has a MTK6572W Cortex-A7 Dual-core 1.0GHz processor which makes the phone work very fast. It supports Android 4.2 operating system, supports an external TF card up to 32GB. 3.5 inch screen allows the user to view videos and play games at a comfortable size as well as clearly due to this phone's 480 x 320 pixels display resolution. With the high end dual cameras, front 1.3 MP, black 2.0 MP with flashlight auto focus, you can record the happy moment easily. It is absolutely a good choice to buy one.
Fortitude charcter, Gentle charm
Titans DG150 smart three anti-cell phone fortitude quality, DOOGEE engineers monitor every process with high standards of Europe, meticulous rigor so that every detail are revealed pursuit of quality. Powerful anti-pressure drop, water splash, dust,shock. Design dynamic fashio, uninhibited style, highlight the atmosphere, leisurely charm.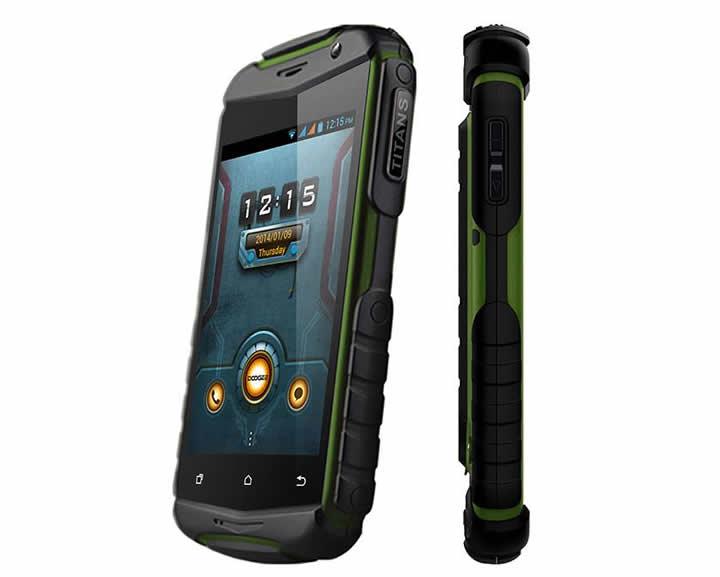 Powerful anti-pressure, Extremely solid
Titans DG150 adopt high-strength wear-resistant engineering plastic and soft rubber, drop shock wear-resistant high-quality performance, High quality design brings a balanced and comfortable feel, which reveal the extraordinary taste and style.

Waterproof and dustproof, A splash of color design
Titans DG150 not only has innovative strength and cool appearance, the internal structure as well. In order to achieve water splash and dustproof performance, each of the sealing engagement through rigorous design.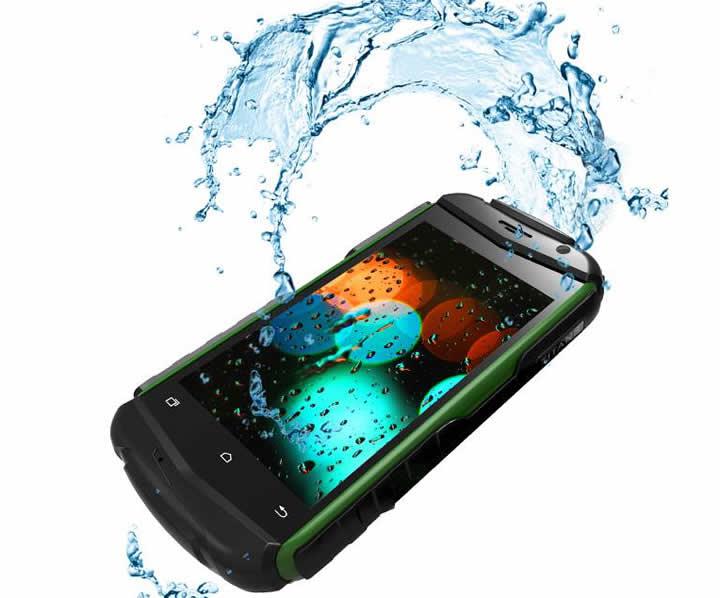 Cool UI design, Customize specially
Titans DG150 special custom UI design, the overall design with harmony, simplicity highlights the stylish features, intelligent and cool fashion.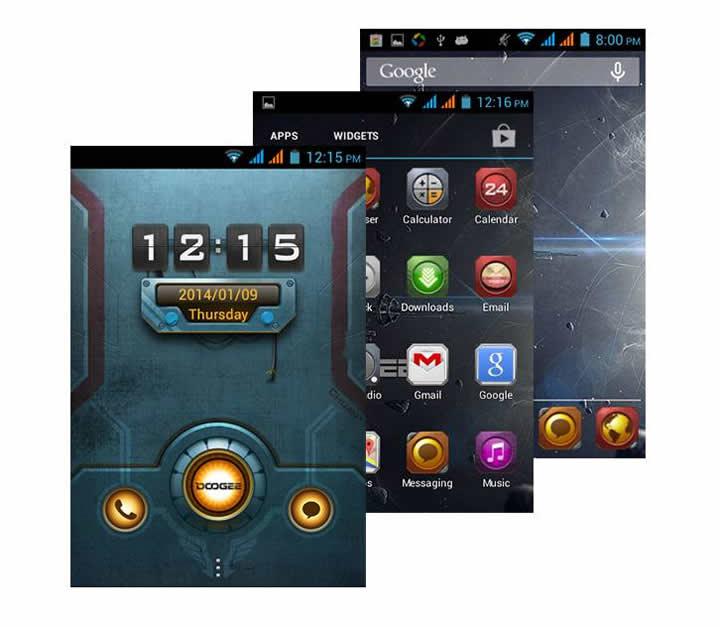 Dual card dual standby, Work and life with freedom of choice
Enjoy Work and life with freedom of choice. Titans DG150 with dual sim dual standby function, you won't miss important calls. Support WCDMA and GSM networks, which can meet your needs. Dual SIM allows you from some private life, mutual nin-interference in commercial work, to achieve the perfect balance of life and work.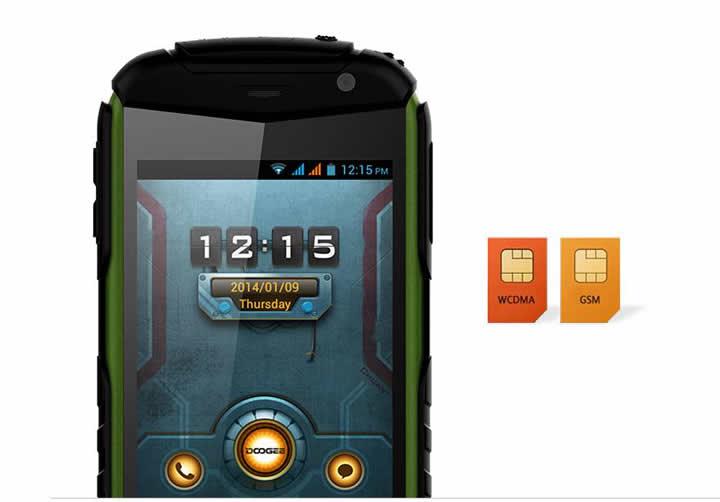 Android 4.2.2 intelligent operating system
Equipped with Android 4.2.2 smart correspondent, vast application download, you can experience the endless fun playing with the application. The new processing architecture Titans DG150 exerting a strong performance.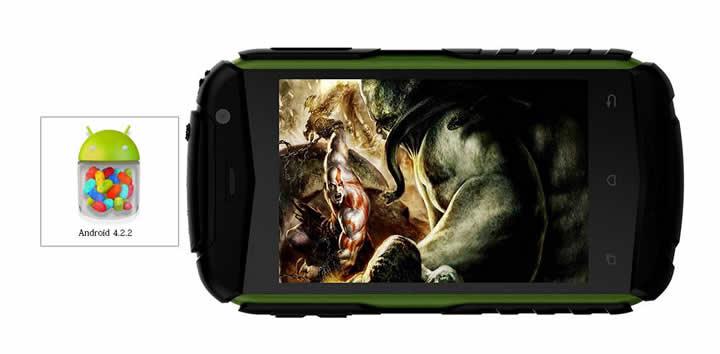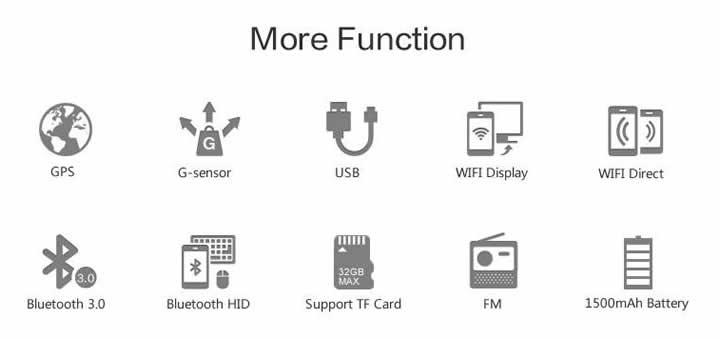 DOOGEE DG150 Smartphone Highlight:
- 3.5 inch screen, 480 x 320 pixel display
- MTK6572W Cortex-A7 Dual-core 1.0GHz
- 512MB RAM, 4GB ROM
- 2.0MP rear camera, 1.3MP front camera
- Android 4.2

DOOGEE DG150 Smartphone Basic Information
Model: DOOGEE DG150
Band: 2G: GSM 850/900/1800/1900MHz
         3G: WCDMA 850/2100MHz
Check here your sim provider http://maps.mobileworldlive.com
Dual SIM Card Dual Standby
Color: Black & Green
Service Provide: Unlocked
OS: Android 4.2
CPU: MTK6572W Cortex-A7 Dual-core 1.0GHz
ROM: 4GB
RAM: 512MB
Display Size: 3.5 Inch Screen
Type: TFT, capacitive touch screen
Resolution: 480 x 320 pixels
Screen Color: 16000K Colors
Card Extend: Support TF card up to 32GB extended
Camera/Picture Resolution: Dual Cameras, front camera 1.3MP; back camera 2.0MP with LED flash

DOOGEE DG150 Mobile Phone Basic Function
Data transfer: USB/Bluetooth
Mobile internet: WAP/WIFI
Phonebook: 500
Message: SMS/MMS
GPS: Yes, with A-GPS support
USB: Yes, USB 2.0
WIFI: WiFi hotspot, Wifi 802.11 b/g
Bluetooth: Bluetooth 3.0
Audio file formats: OGG, MID, AMR, MP3, WAV
Video file formats: MKV, MOV, 3GP, MP4, AVI
Image File Format: PNG, GIF, BMP, JPG
Earphone Port: 3.5mm
Gravity Sensor: Yes
Standby Time: About 1~2 days
Language: English, Russian, Spanish, Italian, Hebrew, Malay, Indonesian, Czech, German, French, Dutch, Polish, Portuguese, Romanian, Slovak, Slovenian, Vietnamese, Turkish, Greek, Arabic, Persian, Hindi, Thai, Chinese
Feature: IP67, VPN, Wifi Display, Scheduled Power On & Off, Sound Recorder, FM Radio

DOOGEE DG150 Mobile Phone Accessories:
1 x 1500mAh Battery
1 x Earphones
1 x USB Cable
1 x Charger
1 x Open the case tools
1 x English user manual

DOOGEE DG150 Mobile Phone Size: 122.8 x 66.9 x 15.86mm
DOOGEE DG150 Mobile Phone Weight: 350g
Doogee DG150 Price Comparison
Recommended Shops:

Pompmall.com: $99.99
Reviews
Fair

Review by

Csaba

Quick enough for normal usage... but it does strange things.

While in a call sometimes it places the call on hold ... or suddenly hang up. Because of my ear touches the screen. Maybe it would better, if the phone locks down the screen when I hold it to my ear.

And it would much better if the back cover were hold by two phillips bolts.

GPS is working well.
3G is working well
WiFi is working well.
The battery is a bit weak for dual core.
The case is great.

But if the android is hanged up, your only choice is to remove the bolts, the back cover and the battery ... and this is the point where phillips bolts would much better.
This version of android hangs 3-4 times a week.

That's all my experience. Maybe my Doogee is defected a bit. (Posted on 10/21/2014)
Write Your Own Review
Tags
Questions on DOOGEE DG150 Android 4.2 Dual core three anti Smartphone 3.5 inch 2MP camera
Sort by

From Harry at

3/29/2015 3:33 PM

From martin at

2/26/2015 11:15 AM

Hey guys !

http://www.doogeemobile.com/download

The link to DG150 firmware update is invalid. Please provide another one.

Reason for wanting to upgrade is that 3G data does not work and bluetooth works sometimes, sometimes not. I am inclined to return the item but unfortunately my cost for return are as high as my purchase price so I cannot.
Doogee Mobile
Thank you for your mail.
Doogee DG150 firmware: http://www.doogee.cc/servicexiazai_detail/newsId=79.html

From Nikos at

2/22/2015 2:40 PM

I purchased recently a DG 150. First month everything was OK but suddenly the phone does not boot. Only shows logo on screen and nothing more. Can you help please?
Doogee Mobile
Thank you for your mail.
Doogee DG150 firmware: http://www.doogee.cc/servicexiazai_detail/newsId=79.html

From Nikos at

2/19/2015 11:40 PM

I am looking to by it from dealer and not on line.
I am in adelaide Australia , is any one here?
What options I have?
And how much is in aud?
Doogee Mobile
Thank you for your mail.
I regret that we have no dealer or re-seller in Australia,
you can buy here: http://www.pompmall.com/doogee-mobile-phone.html

From Phil at

2/12/2015 6:00 AM

Just received a Doogee 150 . No instructions whatsoever on how to put it together , how to charge it , the on/off button is not in the place as described in the very basic " how to use " booklet .
1 How do I charge it and what identification is there that it is charged or charging
2 I was supplied with a 2 pin charging plug ? here in the UK we have 3 pin plugs ?

3 Where can I get FULL instuctions on how to use and charge the phone ?
Doogee Mobile
Thank you for your mail.
We will send the suitable plug according to your country,
Could you kindly tell us your order number?

From pala at

2/8/2015 8:31 AM

From andreas at

2/3/2015 1:54 PM

From TTMW-Intl - Gerry at

2/3/2015 1:14 PM

From Eddy at

1/24/2015 7:24 PM

From irfan bin abid at

1/22/2015 7:17 AM

DG150 will work in india or need to buy unlock DG150
i want to buy this product can possible to deliver in india
Doogee Mobile
Thank you for your mail.
DOOGEE DG150 can work in India, we support worldwide shipping ,you can purchase this directly from our online shop.

From nikola at

1/2/2015 1:03 PM

have erased instaled flashlight on DOOGEE dg150 TITANS.Now can not switch front and back camera. What shuld I do?
Doogee Mobile
Thank you for your mail.
Open the System Settings, open the application, find the camera program, clear the data, and then restart.

From Isuploaded at

12/11/2014 1:09 AM

From ed zoom at

12/4/2014 5:32 AM

From Ayad at

12/3/2014 12:50 PM

From rudi at

12/2/2014 4:52 AM

From kiriakos at

11/20/2014 12:48 PM

hello. i buy this phone worked one month and now not work. the touch screen work alone.
please tell me what to do?
thanks for your time
Doogee Mobile
Thank you for your mail.
After the failure of the phone's screen, restart your device reference Suggestions the following operations:
1, it is recommended that you first to wipe clean the screen, to eliminate interference cause;
2, whether or not to put up to protect film? If post is not good, may cause a touch screen without reflect fault;
3, please confirm whether the individual third-party software interface, so may be software or compatibility causes, suggest you to use other types of software uninstall reinstall or replacement;
4, such as the operation is invalid, please try to restore factory Settings backup fuselage data operation.

From Mark Lucas at

11/19/2014 12:13 PM

From ed at

11/17/2014 3:27 PM

From Roberto at

11/16/2014 11:52 AM

Best regards
I purchased 10 days DG150 all works fine most of the other brands conoscuite,
the only problem is the GPS makes it hard to connect to the network and disconnects easily, I read that many smartphones have this problem is remedied ..
thanks

Roberto
Doogee Mobile
Thank you for your mail.
Click Settings - location information - information switch open position - will pop up a window of consent record location information - Click consent. When entering into the positioning web maps or software will pop up a "know your location information" window. Click to share location information.

From Tasos at

11/9/2014 8:58 AM

From fite at

11/2/2014 8:18 AM

From Jeannesse at

10/15/2014 12:41 PM

when i switch off my mobile and put it in my trousers' pockets , the mobile switches all the time ON. this is causing the battery to drain very fast and i had to charge it again after just 5 hours. Is there something wrong with my ON/OFF switch. Without pressing it, the mobile all the time switches on. This mobile has just been used for 2 days. Or is the switch defective. On the other hand I am very happy with my mobile.
Doogee Mobile
Thank you for your mail.
Thanks for your advice.

From william at

10/14/2014 10:53 PM

From Jeannesse Camilleri at

10/14/2014 7:00 AM

From pscustomer at

10/13/2014 10:37 PM

From luis eskerete at

10/13/2014 4:58 PM

From giuliano sato at

10/13/2014 5:38 AM

Hello,

is DG150 availalbe? if not, when will be?
Why can't see the price of this in your website? can't even find the shopping basket anymore.
can you please let me know?

thx,
Giuliano
Doogee Mobile
Thank you for your mail.
Our website is being upgraded, can not buy, we will give you recommend a trustworthy website,
You can buy here: http://www.pompmall.com/doogee-dg150-android-4-2-dual-core-smartphone-3-5-inch.html

From Piter at

10/11/2014 11:30 PM

From ady at

10/9/2014 9:22 AM

From Sandra at

10/5/2014 4:17 AM

From collie at

9/29/2014 12:54 PM

From Ajay at

9/24/2014 9:56 PM

From Scott at

9/22/2014 11:27 AM

From ed zoom at

9/15/2014 7:32 AM

From Rio at

9/15/2014 7:18 AM

DOOGEE TITANS DG150 MTK6572

1. Supports google play app downloads?

2. Newer version Android can it be installed?

3. Where is latest firmware download?

4. Can I download a user manual in english?
Doogee Mobile
Thank you for your mail.
Yes, Doogee DG150 support download app in the Google play store,
Doogee DG150 official firmware: http://www.doogee.cc/servicexiazai_detail/newsId=79.html
Doogee DG150 come with English manual.

From ALEX at

9/13/2014 5:01 PM

From Stavros at

9/11/2014 11:19 AM

From Walter at

9/11/2014 5:08 AM

From harish at

9/4/2014 10:26 PM

From Andreas at

9/2/2014 10:50 AM

From James at

9/1/2014 3:53 AM

From Cat at

9/1/2014 3:50 AM

From MobileFan at

9/1/2014 2:55 AM

From Isuploaded at

9/1/2014 2:47 AM

From David at

8/26/2014 4:24 PM

From steven at

8/26/2014 12:43 PM

From Karl at

8/22/2014 6:45 PM

From Derek at

8/15/2014 6:30 PM

The DG150 specs says support 3G WCDMA only, but it supports HSPA too! My DG150 connected to my provider's 3G network which is HSPA only. You should list this on the specs!

Site says
Band: 2G: GSM 850/900/1800/1900MHz
3G: WCDMA 850/2100MHz

Should say
Band: 2G: GSM 850/900/1800/1900MHz
3G: WCDMA/HSPA 850/2100MHz
Doogee Mobile
Thank you for your mail.

From Relena at

8/11/2014 11:18 AM

From Banix at

8/8/2014 9:00 AM

Hi,

I have the DG150, I really like this phone. I was wondering is there going to be a update for the firmware, to Android 4.4 KitKat?
Doogee Mobile
Thank you for your mail.
When we got the DOOGEE DG150 Android 4.4 KitKat latest firmware,we will release on our website.
Ask Your Own Question